The Yale Police Union in New Haven shared a bold public safety flyer, complete with an image of the Grim Reaper, with students arriving at the Ivy League university's campus this week.
Yale and New Haven city officials criticized the "misleading" pamphlets, which say crime in the southern Connecticut city is "getting worse."
"This weekend, the Yale Police Union, which is currently in contract negotiations with the university, handed out misleading pamphlets to Yale students as they moved into their residential colleges," Yale said in a Monday statement. "These pamphlets included disturbing and inflammatory rhetoric about the safety of Yale's campus and its home city of New Haven, aimed at creating fear among new students and their families."
The flyer notes that "murders have doubled, burglaries are up 33% and motor vehicle thefts are up 56%" — statistics that come from the New Haven Police Department. 
COP CRITICALLY WOUNDED BY HAMMER-WIELDING 'ANIMAL' WITH 30 PRIORS WHO 'SHOULD HAVE NEVER BEEN OUT': UNION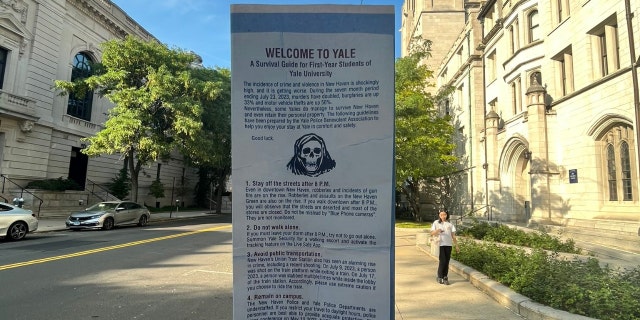 "Nevertheless, some Yalies do manage to survive New Haven and even retain their personal property," the pamphlet states, adding, "Good luck," along with a list of safety tips, such as "[s]tay off the streets after 8 p.m.," '[d]o not walk alone" "[a]void public transportation" and "[r]emain on campus."
JURY CONVICTS CONNECTICUT 'SOVEREIGN CITIZEN' WHO DECAPITATED BRIDGE CHAMPION ROOMMATE WITH SAMURAI SWORD
While there have been 14 homicides so far this year compared to seven over the same time period last year, officials recorded 17 total homicides over the same time period in 2021. In other words, homicide numbers are lower than they were in early August 2021. Officials also recorded 14 homicides in 2020. Prior to 2020, homicides recorded through July typically fell below that number.
Motor vehicle theft has risen at an alarming rate so far this year compared to 2022. Last year, officials recorded 361 auto theft incidents compared to 673 this year, representing an 86% increase.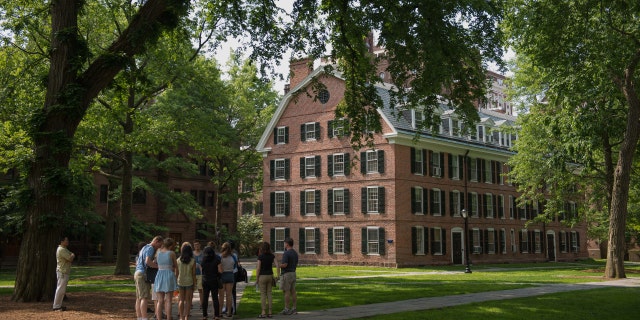 Burglaries are up 23.7% year-over-year while robberies with firearms have decreased nearly 17%. Yale said robberies on campus have decreased 30%.
"There's no dispute on the facts. So, I think they feel an obligation to make sure that students don't fall victim to crimes while they're attending Yale University," police union spokesperson Andrew Matthews told FOX 61. "They have motor vehicles chasing each other down the streets of New Haven shooting at one another. If you or your children were to go to Yale, wouldn't you want to know that?"
NEW YORK COLLEGE EVICTS 44 MIGRANTS FROM CAMPUS DORM, GETS ACCUSED OF DISCRIMINATION
New Haven Mayor Justin Elicker described the pamphlets as "childish" and "selfish" during a Tuesday press conference, according to FOX 61.
Yale Police Chief Anthony Campbell said he was "disgusted" that the police union chose "to take this path."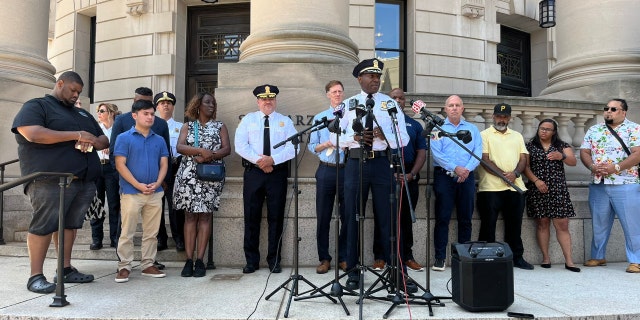 "The most reported crime on campus is the theft of laptops, cell phones, and motorized scooters left unattended and unsecured," the school said. 
CLICK HERE TO GET THE FOX NEWS APP
While "[m]ove-in day has always been special and memorable for students and their families, many of whom are coming to Yale and New Haven for the first time," the pamphlets handed out on campus "ran counter to the spirit of the day and detracted from the exemplary work performed by Yale Police officers, Public Safety team members, and their partners at the New Haven Police Department," the school continued.
The Yale Police Benevolent Association is described online as "an independent, unaffiliated union, that protects members' rights under the current bargaining agreement and the National Labor Relations Act."