Construction is underway for the Theodore Roosevelt presidential library planned in the Badlands of western North Dakota, where the 26th president hunted and ranched as a young man in the 1880s.
The work began June 15 with removing topsoil for the project's cut-fill plan. Builders are beginning construction on the library's east retaining wall, with an initial concrete pour completed Monday, library CEO Ed O'Keefe told The Associated Press on Tuesday.
"If you were to come out on site, you're seeing a sequence that began with the topsoil, started with the east wing, moves to the west wing and then will move back to the east wing," he said.
NORTH DAKOTA TO CREATE THE THEODORE ROOSEVELT PRESIDENTIAL LIBRARY
The project is on a 93-acre site near the venue of the popular Medora Musical and the scenic national park that bears Roosevelt's name. The sale of 90 acres of U.S. Forest Service land for the project was completed last year, costing $81,000 and covered by the Roosevelt family. Congress approved the land sale in 2020.
Total construction will cost about $180 million. Construction will continue through the winter, barring severe weather. "We're hardy and resilient," O'Keefe quipped.
"The anticipated pride moment" will be the delivery of mass timber and steel in spring 2024, he said.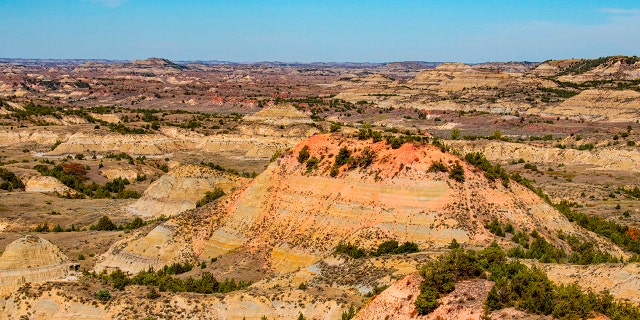 "By next summer you're going to see a very substantial structure on site," O'Keefe said.
Library organizers are planning a grand opening of the library for July 4, 2026, the 250th anniversary of America's founding.
In 2019, North Dakota's Republican-controlled Legislature approved a $50 million operations endowment for the library, contingent upon its organizers raising $100 million in private donations. They announced that goal being reached in fall 2020.
GOATS BROUGHT TO RONALD REAGAN PRESIDENTIAL LIBRARY
O'Keefe told the AP the project has "exceeded over $200 million in fundraising and commitments." Fundraising "doesn't really ever end," he said.
The Legislature earlier this year approved a $70 million line of credit through the state-owned Bank of North Dakota for the project, intended as a backstop for beginning construction. Organizers haven't tapped the line of credit, O'Keefe said.
Oil magnate Harold Hamm, a major player in the state's Bakken oil field, donated $50 million to the project, announced in January by Republican Gov. Doug Burgum.
CLICK HERE TO GET THE FOX NEWS APP
Burgum, a wealthy software entrepreneur who is running for president, championed the library proposal in the 2019 session, and donated at least $1 million to the project with his wife, Kathryn.