Drivers on one of the nation's most congested stretches of highway can soon utilize a 10-mile extension of Virginia's Express Lanes network that allows solo drivers to pay a fee to bypass the regular lanes.
Virginia Gov. Glenn Youngkin announced Wednesday that the extension of the I-95 Express Lanes from Stafford County to Fredericksburg, in the outer suburbs of the nation's capital, will open to motorists beginning Thursday night.
The $670 million public-private partnership to extend the Express Lanes has been in the works since 2018, when the deal between the state and Transurban, the private company that operates the Express Lanes, was first announced. At the time, authorities expected the lanes to open in 2022,
PENNSYLVANIA ALLOTS $400M IN FEDERAL FUNDS FOR ON-THE-JOB INFRASTRUCTURE WORKER TRAINING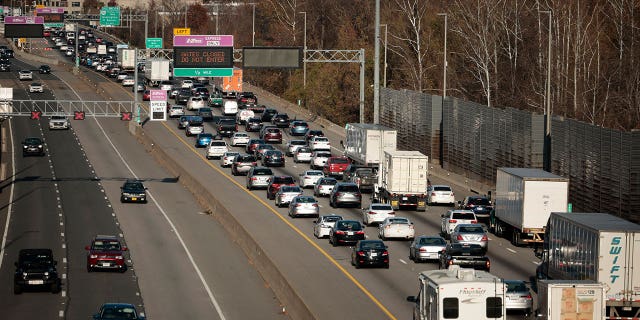 Vehicles with three or more occupants can use the lanes for free with an E-ZPass Flex transponder. Others can use the the lanes by paying a toll that varies depending on traffic volume.
The Express Lanes reverse directions based on the primary traffic flow, typically northbound in the morning and southbound in the evening, and run parallel to the regular lanes. The I-95 and 395 Express Lanes, which now run from the Potomac River at the District of Columbia border to the Rappahannock River in Fredericksburg, is the longest reversible road in the U.S., according to Youngkin's office.
CLICK HERE TO GET THE FOX NEWS APP
While drivers will be able to use the full 10 miles of the extension beginning late Thursday, construction work will continue to build access and exit ramps at several points over the next few months.
Authorities believe the new southern terminus is designed in ways that will minimize backups that often occur at the existing Express Lanes stopping point.
A 2017 study found a segment of I-95 in northern Virginia to be the worst traffic hotspot in the country.