TikTok star Caleb Coffee was sent to the hospital on Wednesday afternoon after falling 60 to 80-feet off a cliff onto lava rock in Hawaii, according to a family member.
Caleb Coffee's sister, Peyton Coffee, wrote in a GoFundMe that he fell off the 60 to 80-foot cliff on Wednesday at around 2 p.m. while he was with three of his friends on a hike and fell onto lava rock.
Following the fall, Caleb Coffee was airlifted to the emergency room, where his injuries included a broken femur, elbow, wrist, as well as multiple gouges and burns throughout his body.
Peyton Coffee also said his brother hasn't been able to hold down food and is in "excruciating pain."
MAUI COMPANY SAYS REQUEST FOR WATER TO FIGHT WILDFIRE DELAYED SEVERAL HOURS WHILE STATE CONSULTED WITH FARMERS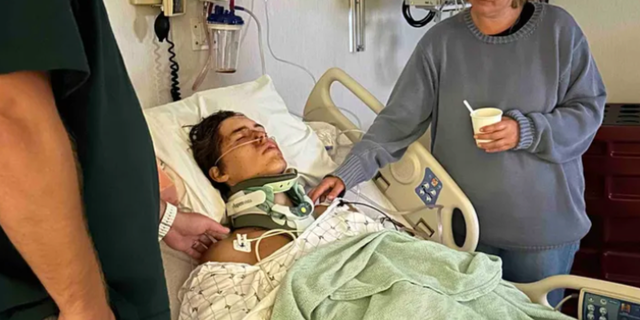 The GoFundMe has a goal amount of $100,000, as Caleb Coffee doesn't have medical insurance. Over $21,000 has already been raised as of Saturday afternoon.
"60 to 80 feet…I can't even fathom that."
"Unfortunately Caleb did not have medical insurance and we can not afford these medical bills that is why we are making this go fund me," Peyton Coffee wrote.
In an update posted to his TikTok account, which has 11.1 million followers, Caleb Coffee said that his neck and spine aren't broken and thanked people for supporting him.
HAWAII WILDFIRE 'ADDED' TO FAMILY'S TRAGEDY AND TURMOIL: SAMARITAN'S PURSE REVEALS DEVASTATION IN MAUI
"And I just want to give the biggest thank you to God honestly you guys, because this is not the first time I have almost died in my life," Caleb Coffee said. "When I was younger, I had severe seizures and grand mal seizures and I almost died, and yesterday I almost died as well."
"60 to 80 feet…I can't even fathom that," he continued. "I don't even remember. I just woke up and I thought I was gonna die."
CLICK HERE TO GET THE FOX NEWS APP
According to the family's GoFundMe, more injuries are likely to show up over the next several weeks.