A Virginia teen is refusing a demand from high school officials to remove two American flags from his pickup truck, opting to leave the school altogether instead to be homeschooled.
Staunton River High School student Christopher Hartless said he is just exercising his First Amendment rights by flying the flags, according to a Fox 19 report. 
"My family fought for America, and I feel like I should be able to represent the flags that they fought for," Hartless told Fox 19.
His stepmom, Christina Kingery, said last Wednesday Hartless went to his rural Bedford County school with the flags mounted on his truck, but school administrators told him he needed to take them down because it was a distraction.
TEXAS GOV ABBOTT TO AUSTRALIAN WOMAN COMPLAINING ABOUT 'TOO MANY AMERICAN FLAGS': 'GO BACK TO AUSTRALIA'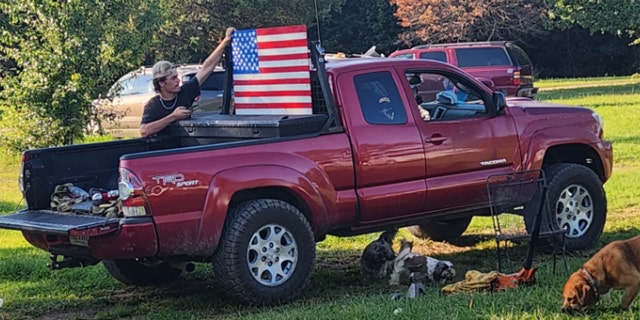 "I don't understand how it's distracting if they have one on the flagpole that every other student can see," Hartless reportedly said.
"I told my son if this is what he's believing in, then we are both going to stand behind him all the way," Kingery told Fox 19.
This week, Hartless said he was told again he needed to take the flags down by school officials. The school also revoked his parking pass.
Kingery reportedly doesn't want him to have to ride the bus, so they have decided to do homeschooling.
"If they're willing to change and let kids want to fly the American flag, then I'll put him back in school," Kingery told the local outlet.
SENATE DEMOCRATS KILL GOP LEGISLATION TO FLY ONLY THE AMERICAN FLAG FROM GOVERNMENT BUILDINGS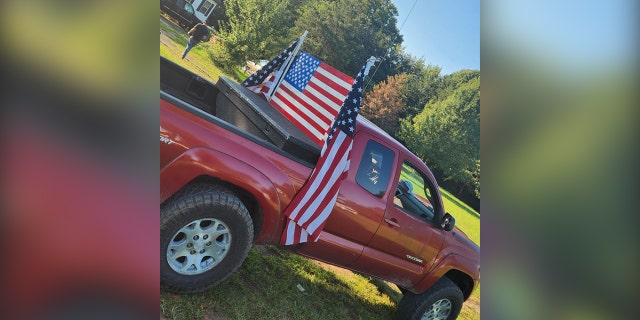 The high school issued a press release Tuesday noting that the student driver contract for the Bedford County Public Schools (BCPS), which has been in place in all three of the high schools for over a decade, prohibits student drivers from flying large flags or banners on their vehicles, due to their potential to distract or obstruct the view of student drivers as they are navigating the school parking lot. 
"The underlying concern for this rule is student safety," the school noted. 
In an email to Fox News Digital, the school noted the BCPS Code of Student prohibits "'Attire that has language or images that are offensive, profane, vulgar, discriminatory, or racially/culturally divisive. This would include confederate flags, swastikas, KKK references, or any other images that might reasonably be considered hurtful or intimidating to others.' It does not include wearing clothing with American flag logos or prints on attire."
FEDS BANNED FROM FLYING NON-US FLAGS UNDER NEW GOP BILL AFTER WHITE HOUSE FLIES PRIDE FLAG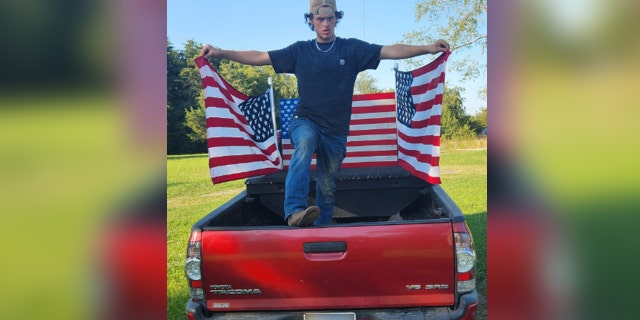 "This attire is allowed. Regarding flags on cars, the student parking contract, which has been used by all 3 of our high schools for many years, states, 'Large flags or banners are not allowed to be flown or displayed on vehicles due to their distractive nature.'"
CLICK HERE TO GET THE FOX NEWS APP
Bedford County, Virginia, has a population of just about 80,000 according to the Census Bureau and is home to the National D-Day Memorial. 
The school noted that per the Bedford school board's patriotism policy, they "proudly fly the American flag throughout the school, and the Pledge of Allegiance is recited every morning."