The next president of Ohio State University will be a veteran higher education leader with extensive military experience, as the school filled its leadership vacancy on Tuesday while students returned for the first day of classes at one of the nation's largest universities.
Walter "Ted" Carter Jr. is the current University of Nebraska system president. He will begin his new role at Ohio State on Jan. 1, with Executive Vice President Peter Mohler serving in an acting capacity until then.
Carter has presided over a period of enrollment growth at Nebraska, including record-setting gains among underrepresented students. He launched the Nebraska Promise, a financial aid program guaranteeing full tuition coverage for low- and middle-income students, and implemented a budget that froze tuition for two years.
UNIVERSITY OF NEBRASKA-LINCOLN HIT WITH CIVIL RIGHTS COMPLAINT OVER 'RACE-EXCLUSIVE' FILMMAKING PROGRAM
Before overseeing the 70,000 students, faculty and staff of another Midwestern land-grant institution with a large medical center, Carter led the U.S. Naval Academy as its longest-serving superintendent since the Civil War. The retired vice admiral attended the Navy Fighter Weapons School, known as Top Gun, and he holds the national record for carrier-arrested landings with over 2,000 mishap-free landings.
He fills a vacancy at Ohio State left by the mid-contract resignation of President Kristina Johnson in November 2022, which has gone largely unexplained. The engineer and former undersecretary of the U.S. Department of Energy had been chancellor of New York's public university system before she joined the Buckeyes as president in 2020. Her tenure ran through the end of last school year.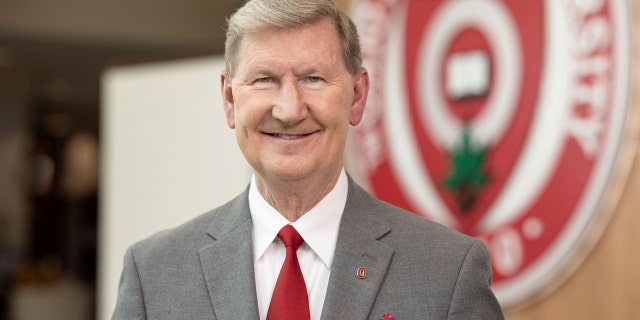 The university's trustees voted Tuesday to name Carter president, with school leaders praising him as well-known for his strategic ingenuity and collaborative leadership style.
"President Carter brings an unparalleled combination of strategic leadership and true service, and we could not be more thrilled to welcome him and his family to Ohio State," said board chair Hiroyuki Fujita, PhD, who chaired the Presidential Selection Subcommittee.
OHIO STATE CHAMPION WRESTLER IN SERIOUS CONDITION AFTER BEING SHOT DURING REPORTED ROBBERY
Carter said Ohio State is known around the globe for its research, teaching and commitment to service.
"The work being done across Ohio and beyond to shape the future of research and innovation, workforce development, the arts, health care, college affordability and college athletics is remarkable," he said. "These are areas of particular passion for me, and I can't wait to begin my journey as a Buckeye."
Carter earned a bachelor's degree from the Naval Academy in physics and oceanography and served for 38 years, receiving the Distinguished Flying Cross and the Bronze Star. He logged more than 6,300 flying hours including during 125 combat missions in Iraq, Afghanistan, Kuwait, Bosnia and Kosovo.
CLICK HERE TO GET THE FOX NEWS APP
He and his wife, Lynda, have been married 41 years and have two adult children.