The suspect who was shot and killed by police after a deadly shooting at a popular southern California biker bar Wednesday night has been identified as a retired police sergeant.
John Snowling, 59, traveled from Ohio to California to confront his estranged wife, Marie, at Cook's Corner in Trabuco Canyon, according to the Orange County Sheriff's Office. Once he arrived, he walked up to her and shot her one time without any argument, Sheriff Don Barnes said. He then started firing random shots in the establishment before moving out to the parking lot.
Deputies responded to Cook's Corner within two minutes of the shooting being reported at 7:04 p.m. and made contact with Snowling in the upper parking lot area, who was shot and killed after firing multiple rounds at them, including one that made it through a patrol car's windshield.
Three adults were killed, including an unidentified woman who was eating with Marie, and six adults were injured. Marie survived the shooting and was conscious and speaking on Thursday morning, according to Barnes. No deputies were injured.
MASS SHOOTING AT HISTORIC CALIFORNIA BIKER BAR LEAVES 3 DEAD, 6 INJURED; SUSPECT ALSO DEAD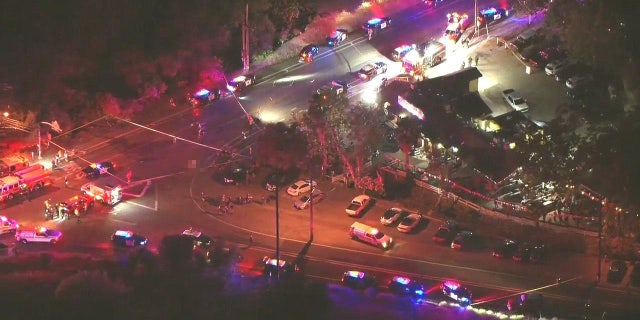 Snowling, who retired from the Ventura Police Department in California after almost 28 years, was married to Marie for more than 30 years when irreconcilable differences led her to file for divorce in December 2022, according to The Associated Press. They have two adult children together.
His divorce lawyer, Tristan teGroen, told The AP there was "no murmur of domestic violence or threats or anything like that from the other attorney" during the ongoing divorce proceedings, and a mandatory settlement conference was scheduled for November.
Marie's father, William Mosby, told The Orange County Register that Snowling could not "deal with the divorce."
Snowling had been living on a 7-acre property in Ohio with his dog, but still owned a residence in Camarillo in Ventura County, teGroen said. It was unclear when he had arrived in California.
In an email to The AP, Marie's attorney Kenneth Henjum said the family was in shock and requesting privacy.
'HEINOUS' MOTIVE REVEALED IN RANDOM SHOOTING, MURDER OF TEEN GIRL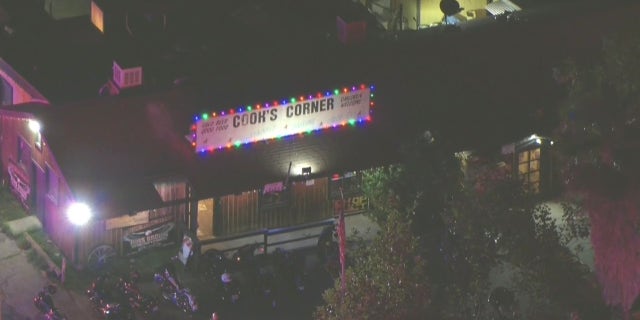 Cook's Corner was hosting its popular weekly spaghetti night on Wednesday while cover band M Street provided the entertainment. Keyboardist Mark Johnson told The AP the band was performing when Snowling walked in and started shooting. He said he and his wife, Debbie, who is also a singer, hid behind a speaker.
"Once he started shooting, it was very indiscriminate," Mark said, adding that once Snowling went outside, he and about 30 others shut the doors to the bar, and he called 911.
Though the Johnsons were not injured, two of the three remaining bandmembers were. Both are expected to survive.
More than 200 personnel responded to the scene including 71 patrol vehicles, 100 deputies and 40 investigators, according to a news release from the sheriff's office.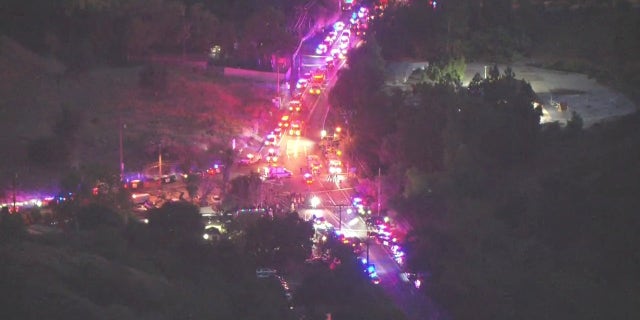 "I have never been so happy to see dozens of police cars heading my way," Debbie said. "We were fish in a very small barrel."
CLICK HERE TO GET THE FOX NEWS APP
The Orange County Sheriff's Office said four guns – three handguns and a shotgun – belonging to Snowling were recovered from the scene. All four were purchased legally, Barnes said.
Though Cook's Corner calls itself the oldest motorcycle bar in southern California, the establishment serves as a popular spot for all sorts of people, including non-bikers and families with young children.