Frank Cavalluzzi, 57, of New York City, has been convicted on nine attempted murder counts over a bizarre, heated 2020 confrontation with Black Lives Matter protestors.
Cavalluzzi reportedly emerged from his SUV wearing a leather glove that brandished four serrated blades, and waved it at the demonstrators before re-entering his vehicle and attempting to run them over.
"A dangerous man is going to jail," a news release by Queens District Attorney Melinda Katz said. "It's a good day for New York and the First Amendment."
A New York City man who menaced Black Lives Matter protesters wearing a glove with serrated blades and then got in his SUV and tried to run them over has been convicted of nine counts of attempted murder and other charges, prosecutors announced.
Frank Cavalluzzi, 57, was found guilty on Monday after a two-week trial for threatening peaceful demonstrators on June 2, 2020, during a wave of protests over the murder of George Floyd by a Minneapolis police officer, Queens District Attorney Melinda Katz said.
Cavalluzzi faces up to 25 years to life in prison for each of the attempted murder charges when he is sentenced in October.
NYC 'WOLVERINE' MAN CHARGED WITH ATTEMPTED MURDER
"A dangerous man is going to jail," Katz said in a news release. "It's a good day for New York and the First Amendment."
According to prosecutors, Cavalluzzi was driving through the Whitestone neighborhood of Queens when he encountered a group of demonstrators with Black Lives Matter signs and posters.
Cavalluzzi stopped his SUV and started screaming profanities and racial slurs at the protesters, Katz said. He also told them, "You are in the wrong neighborhood," according to Katz.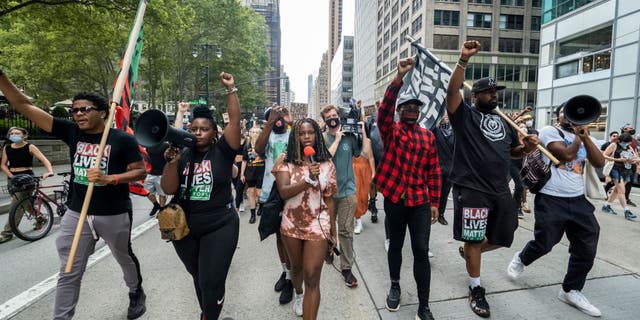 He then got out of his SUV wearing four serrated blades attached to a leather glove, which he waved at the protesters while chasing them and continuing to scream at them, Katz said.
Then Cavalluzzi got back in the SUV, yelled "I will kill you," and drove onto the sidewalk at the demonstrators, Katz said.
No one was injured, but one of the protesters, Lorraine McShea, 22, told The New York Times that the confrontation was "extremely scary."
Arianna Agudo, who witnessed the encounter when she was in the area making grocery deliveries, told The Associated Press that she was pleased with the verdict.
NYC MAN WITH WOLVERINE-TYPE CLAWS APPARENTLY THREATENED GEORGE FLOYD PROTESTERS, POLICE SAY
"That man's literally spending his whole life in prison so I'm happy with the result," Agudo, 25, said Tuesday.
Cavalluzzi's attorney, Michael Horn, told the Times that his client was experiencing mental health challenges and "struggling to understand the evolving city where he lives."
A spokesperson for the district attorney said the two longest blades of Cavalluzzi's claw-like glove were about a foot long.
CLICK HERE TO GET THE FOX NEWS APP
Agudo, who shot video of the episode and gave it to the police, said the glove contraption was "literally out of a movie. Like what the hell, who would create that kind of weapon?"