A museum in New Mexico to honor the Navajo Code Talkers is about $40 million shy of becoming a reality, according to organizers.
The state put $6.4 million in capital outlay funds toward the project this year, but the museum's organizers face a significant financial climb before doors can open, the Santa Fe New Mexican reported Tuesday.
"Our capacity is severely limited," said Regan Hawthorne, CEO of the Navajo Code Talkers Museum. "We're still fledgling. We're still gaining momentum in finding our identity."
MEET THE AMERICAN WHO POPULARIZED LATIN MUSIC, TITO PUENTE, WORLD WAR II NAVY VETERAN AND KAMIKAZE SURVIVOR
Hawthorne's late father, Roy Hawthorne, was a Marine who served as a Code Talker on South Pacific islands from 1942 to 1945.
The complex, unbreakable code was developed by an original group of 29 Navajo Marines in 1942. They used it in combat communications in Pacific campaigns during World War II and helped U.S. forces gain ground and victories.
Only three of the original Navajo Code Talkers are still alive. There is a group of 29 that are referred to as the original Code Talkers, but the three who are alive now aren't part of that group.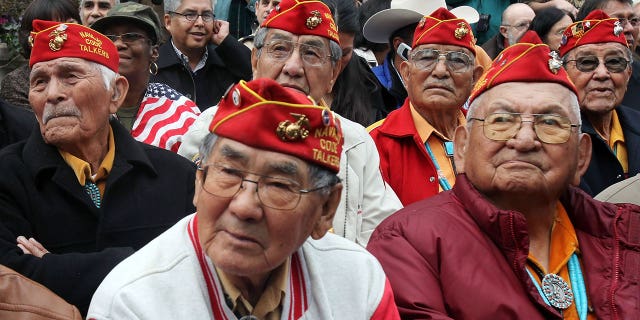 The Chevron Mining Co. donated more than 200 acres in McKinley County in 2009 for a Code Talkers museum, but the project has not gained much momentum since then.
Regan Hawthorne said the museum's leaders have to finalize a deal with the Navajo Nation on the land for the museum.
MEET THE AMERICAN WHO 'WON THE WAR FOR US': ANDREW JACKSON HIGGINS, WORLD WAR II NEW ORLEANS BOATBUILDER
To avoid a problem with the state's anti-donation clause, he said, museum leaders are working on a deal to give or sell the land to the tribe.
Regan Hawthorne added that finding funding has been challenging, in part because of confusion over the land and museum organizers' lack of an office where they can meet people and solicit financial support.
CLICK HERE TO GET THE FOX NEWS APP
The tribe celebrates the Code Talkers every Aug. 14 and has done so since 1982, when President Ronald Reagan proclaimed the date as National Navajo Code Talkers Day.
On Monday, the 25th Navajo Nation Council paid tribute to the Code Talkers again at an event held at the Navajo Veterans Memorial Park in Window Rock, Arizona.