Biaggio Ali Walsh used to think about fighting only when someone wanted to see if the grandson of "The Greatest" was any good himself.
Muhammad Ali is one of the biggest and best-known figures in boxing history. When kids in Las Vegas discovered he was also the grandfather of Biaggio and his brother, Nico, they'd challenge the siblings to put on the gloves.
"People would find out who me and Nico were related to and they'd say, 'Oh, can you fight?" Ali Walsh said. "And I'm like, 'I don't know.'"
The answer now is clearly yes.
ALI GRANDSON TO BOX AS FIGHTS BACK AT MADISON SQUARE GARDEN
These days, Ali Walsh can't wait to fight, and he'll do so again Wednesday at Madison Square Garden with his next bout on a Professional Fighters League card.
Five fights into his MMA career, it's the second time he'll be competing in an arena where his grandfather participated in some of its most memorable events. Ali lost to Joe Frazier there in the 1971 "Fight of the Century" but won his other seven bouts, including a rematch with Frazier, and was the guest referee in the first Wrestlemania.
Ali Walsh fought on his first PFL card at MSG, challenged as much by the historic setting as his opponent.
"I was super nervous but I went in there and just stayed calm, just got the job done and that's how I want to be in every fight," Ali Walsh said.
Ali Walsh (4-1) still fights as an amateur, trying to make up for a somewhat late start to a combat career.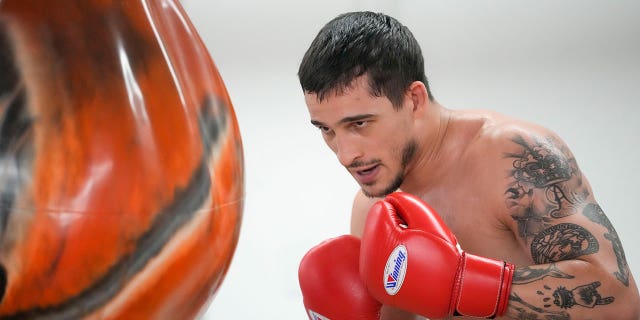 Two weeks shy of 25, he certainly lacks the foundation of his grandfather, who began boxing at 12 and was just 18 when he won a boxing gold medal at the 1960 Olympics in Rome.
But fighting at any age was never part of Ali Walsh's plan. He was a running back at powerful Bishop Gorman High School, where he scored 65 touchdowns and rushed for more than 4,500 yards on teams that went 45-0 and won three consecutive Nevada state championships from 2014-16. He then spent two seasons at California before transferring back to UNLV to play for his high school coach.
While training to stay in shape as his football career was ending and working as an intern, he developed an itch to join the guys he was helping as a strength and conditioning coach.
"I just saw them putting in all this hard work and I was like, 'I'm 21, 22 years old, I'm still young, I could do this,'" Ali Walsh said. "Like, I could just go for it. I don't want to be 40 years old and think, 'Oh, would I have been a good fighter?' Like, I don't want to have those kind of thoughts and regret, so I just said you know what, I'm just going to go for it."
JAKE PAUL SIGNS EXCLUSIVE DEAL WITH PROFESSIONAL FIGHTERS LEAGUE, WILL LEAD NEW DIVISION
But having never even wrestled in high school, Ali Walsh had to learn every aspect of his new sport.
Ali's body was already too ravaged by Parkinson's disease to have ever shown him his skills — not that the "Ali Shuffle" would do much use in a cage against guys who could go for his legs — so their time together was spent more on dinners and movies. But Ali Walsh was able to pick up something by watching old footage.
"Stylistically, my grandfather had such a stinging jab," Ali Walsh said. "He really used his jab to set up a bunch of stuff and I think that one of the biggest things that I pick up from him is how he sets up his right hand using his jabs, or he sets up other combos using the jab."
It's working for Ali Walsh, who has won all three fights on PFL cards by first-round knockout on punches, including his most recent outing in June.
Still, he concedes he's a long way from being able to match the experience of the PFL pros fighting for a $1 million prize. Even if he opts to turn pro next year, Ali Walsh said he still wouldn't expect to go right into the PFL season.
CLICK HERE TO GET THE FOX NEWS APP
But he's come a long way already from the guy who lost his debut in June 2022, so overrun with nerves and anxiety that he wilted quickly and found himself in the hospital after the fight, with his family certain he wouldn't want another one.
He's come even further from the teenager who recalls being apprehensive when an older kid wanted to fight him.
"He just kept running his mouth, telling me he wants to box me and stuff, 'Ali's grandkid, let's box,' and I kept saying no, no, no because I was kind of intimidated," Ali Walsh said. "The dude was a senior. Like, he's talking down on a 14-year-old. I was kind of intimidated, I don't want to box, I'm tired. And then obviously the crowd peer pressured me, so I put the gloves on and just freaking whooped his (behind). It was fun."
It's more fun now that he knows what he's doing, believing he's getting better with every bout. And with Nico an unbeaten pro boxer who has his next fight a few days later in Tulsa, Oklahoma, it's safe to say none of those kids back home would be messing with Ali's grandsons today.
"They wouldn't try it now," Ali Walsh said.