Maui Police Chief John Pelletier repeatedly urges "patience, prayers and perseverance" as teams painstakingly search the ashes in the seaside community of Lahaina for the remains of scores of victims from the deadliest U.S. wildfire in more than 100 years.
It's the kind of message he has used before, in the aftermath of another American tragedy: the 2017 Las Vegas mass shooting that left 58 dead and hundreds injured.
Pelletier was a Las Vegas police captain when a gunman with military-style rifles opened fire from the windows of a Las Vegas Strip high-rise hotel into a crowd of 22,000 attending an outdoor country music festival. The violence shook the city to its core, like the wildfire has done in Maui.
Identifying victims and notifying relatives was emotionally draining in Las Vegas, just as it will be as names are put to remains in the aftermath of a wind-whipped fire that destroyed nearly all of the historic town of Lahaina.
At daily media briefings, Pelletier has drawn the searing spotlight that his former supervisors in Las Vegas — then-Clark County Sheriff Joe Lombardo and Undersheriff Kevin McMahill — endured for weeks after the massacre. Lombardo is now the Republican governor of Nevada. McMahill is the sheriff and head of the Las Vegas Metropolitan Police Department.
KING CHARLES SENDS LETTER TO BIDEN REGARDING MAUI WILDFIRE DISASTER: 'UTTERLY HORRIFIED'
"I understand the pain this is going to take," Pelletier said during a weekend news conference.
Pelletier was commander of the tourist district that includes the Las Vegas Strip before he became Maui police chief in December 2021.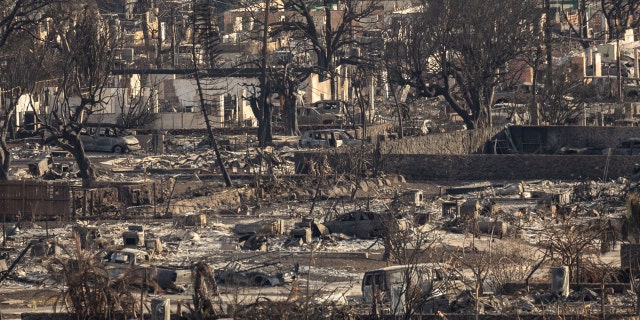 He is no laid-back Hawaiian.
"Aloha," Pelletier said as he approached the podium to speak at Monday's news conference. But his gruffness and matter-of-fact style flares into frustration over pressure to quickly find and identify victims — and outright anger over news crews and curious members of the public trampling through the fire zone and the ashes there that include the remains of victims.
"It's not just ash on your clothing when you take it off. It's our loved ones," Pelletier said.
CLICK HERE TO GET THE FOX NEWS APP
The death toll still is rising and ultimately could go well over 100 as searchers find remains. Pelletier urged people to submit DNA samples to help identify family members.
"Everyone wants a number," the police chief said of the death toll. "You want it fast. … We're going to do it right."
Chris Darcy, a retired Las Vegas undersheriff who is now a police practices consultant, said Monday that he has spoken with Pelletier since the fire. Darcy didn't talk about their conversation, but he remembered that next-of-kin notifications following the shooting in Las Vegas involved the entire first responder community.
"It's not just one person," Darcy said. "It takes everyone to manage an incident of such magnitude."
Pelletier declined an interview with The Associated Press, saying in a text message he was "beyond busy."
"I have to focus on Maui," he said.