A section of major cross-state highway that closed earlier this month because of a wildfire in Washington state's North Cascades National Park will reopen Wednesday.
The Washington state Department of Transportation initially closed State Route 20 or the North Cascades Highway between Newhalem and Rainy Day Pass on Aug. 4 to ensure firefighter safety as they fought the Sourdough fire. The road reopened the next week and then closed again on Aug. 11 between Newhalem and Silver Star.
Transportation officials said Tuesday after crews removed rocks and debris that the road would reopen at 8 a.m. Wednesday for travelers passing through. Officials urged travelers not to line up on the road ahead of the reopening and warned that the road could close again because of fire activity.
WASHINGTON WILDFIRES KILL 2, DESTROY HUNDREDS OF BUILDINGS
No stopping will be allowed on the highway as fire crews continue working on the Sourdough and Blue Lake fires in the area. All recreation in the area east of Newhalem remains closed by the National Park Service, transportation officials said.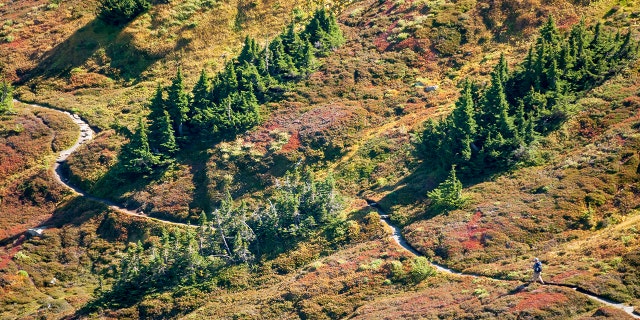 SPANISH POLICE CONFIRM TENERIFE WILDFIRE WAS STARTED DELIBERATELY
The Sourdough fire ignited on July 29 because of a lightning strike near Diablo in the steep terrain of the Ross Lake Recreation Area. It has burned through 9.3 square miles and is 12% contained.
The Blue Lake fire started Aug. 14 about 13 miles southwest of Mazama and has charred less than a square mile of timber and brush. It's cause hasn't been determined and containment was at 5% as of Tuesday.
CLICK HERE TO GET THE FOX NEWS APP
The North Cascades Highway is the northernmost pass connecting eastern and western Washington.