A pack of brazen thieves targeted a Nike store in East Los Angeles over the weekend, part of a wave of smash-and-grab robberies in recent weeks, including a Nordstrom heist in which up to $100,000 worth of merchandise was stolen. 
Three suspects entered the Nike Community Store on Whittier Boulevard just after 5:30 p.m. Sunday, KTLA-TV reported. The Los Angeles County Sheriff's Department told Fox News Digital the store was also targeted Saturday and has been targeted in the past. 
Footage taken from within the store appears to show two suspects running in with trash bags and taking off with shoes and other items. No injuries were reported.
CALIFORNIA NORDSTROM RANSACKED IN HUGE 'FLASH MOB' SMASH-AND-GRAB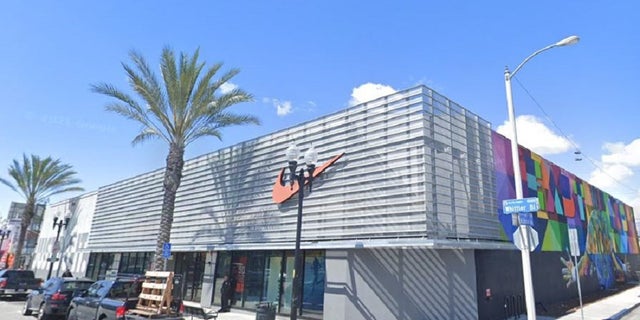 The incident occurred on the same day that 30 to 50 people ransacked a Los Angeles Nordstrom store police say included the theft of merchandise worth an estimated $60,000 to $100,000. 
The thieves were captured on video wearing sweatshirts with hoods over their heads as they made off with the stolen goods. Shattered glass and racks of merchandise were seen toppled over inside the Topanga Mall store. 
Video footage from that incident showed people inspecting the debris with an alarm blaring in the background.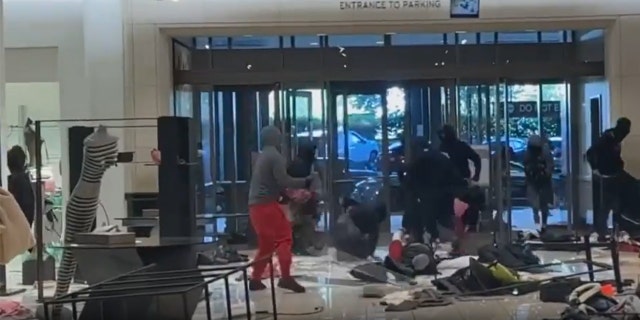 "What happened today at the Nordstrom in the Topanga Mall is absolutely unacceptable," Los Angeles Mayor Karen Bass said. "Those who committed these acts and acts like it in neighboring areas must be held accountable." 
On Aug. 8, a mob of thieves was also seen on video as they fled a Yves Saint Laurent store in Glendale, California, in broad daylight, getting away with armloads of merchandise worth an estimated $300,000.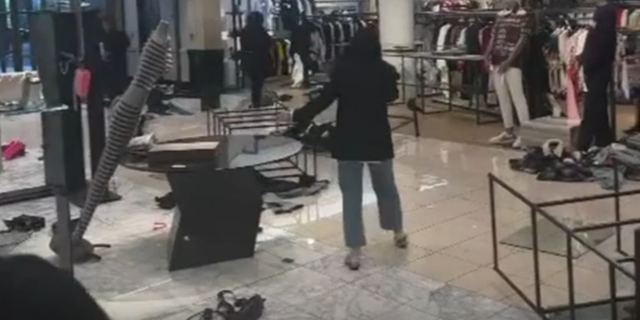 CLICK HERE TO GET THE FOX NEWS APP 
On Monday, Los Angeles County District Attorney George Gascon called such thefts "unacceptable" and "outrageous."
"We assigned our organized crime division to work on these cases about a year and a half ago," he told reporters. "We view them as organized crime, and we will use every tool available under the law when there is an arrest made to make sure these individuals are held accountable. This is unacceptable behavior in a civilized society."