Lorilee Schultz, whose childhood memories include munching cream puffs in the Dairy Building at the Illinois State Fair, had a special reason for attending this year's unveiling of the famed butter cow: She's part of it.
The 102nd edition of the Dairy Building's crown jewel features a butter model of Schultz ready to milk one of her 60 head at Mil-R-Mor Farm in Orangeville, 131 miles northwest of Chicago. The 800-pound sculpture, created by Sarah Pratt of West Des Moines, Iowa, was unveiled Wednesday by Gov. J.B. Pritzker and Agriculture Director Jerry Costello II, serving as a soft opening for the annual agricultural extravaganza.
"This year's butter cow sculpture celebrates the Illinois dairy families like mine who 'Harvest the Fun' of dairy every day on our farms," Schultz told gathered reporters, slipping in a reference to the theme of this year's fair. "What is more fun than ice-cold milk, creamy ice cream and gooey cheese made with milk produced on the over 400 dairy farms across the great state of Illinois?"
ILLINOIS AUTHORITIES CONDUCTING DEATH INVESTIGATION AFTER SHOOTING NEAR CRYSTAL LAKE LEAVES AT LEAST 4 INJURED
The fair unofficially opens Thursday night with the annual Twilight Parade, but Pritzker returns Friday morning for the official ribbon cutting.
"It's the most fun that you'll have all summer, coming to the Illinois State Fair," Pritzker said.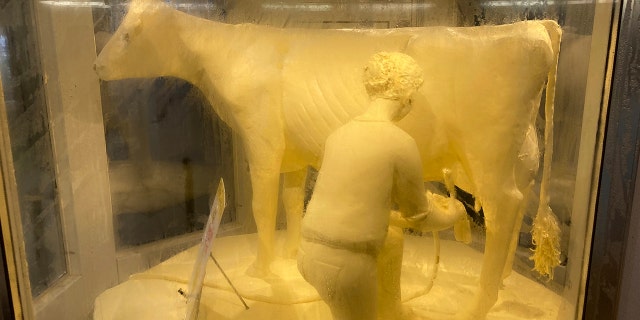 This is the 170th anniversary of the Illinois State Fair, which, in its earliest years, rotated among cities. Then-Gov. George H. Ryan celebrated the 2000 fair as the state's 150th, but it's been skipped in a half-a-dozen years since its origin. It went on hiatus during the Civil War, in 1893 because of Chicago's ongoing Columbian Exposition, during World War II and in 2020 because of the coronavirus pandemic.
LIGHTFOOT PLEDGES TO STAY IN CHICAGO AFTER BEING OUSTED FROM OFFICE AMID SPIRALING CRIME WAVE
"Although a lot has changed since our very first fair in 1853, one thing remains strong and steadfast, and that's our state's agriculture tradition," Pritzker said. "It's a legacy that we're proud of. It's a legacy that we celebrate every summer as we gather here in Springfield at this fair."
Costello bragged about brick-and-mortar improvements to the fairgrounds and the many historic structures which populate it. During much of the past quarter-century, the fairgrounds on the city's north side were virtually ignored because of the state's ongoing budget problems. Costello said that, all told, the Pritzker administration has invested $65 million in the fair's infrastructure.
CLICK HERE TO GET THE FOX NEWS APP
And Pritzker credited the fair's organizers with drawing top-tier entertainment to the Grandstand and other fair stages. Rockers the Doobie Brothers, REO Speedwagon, Alter Bridge and Chevelle will take the stage along with Alanis Morrisette, Nelly and Tim McGraw.
"I have multiple concerts that I'll be at," Pritzker said. "I'm not going to reveal that right now, because I have to say my wife is going to join me in a couple of them, and the lieutenant governor is going to join me in a couple of them."