A team of lifeguards in Florida were captured on drone video over the weekend forming a human chain to rescue a boogie boarder from a rip current that was pulling him out into the ocean.
Joe Osborne was on break from his job at a tattoo parlor in Flagler Beach when he decided to fly his drone over the ocean and captured the lifeguards in action.
"I was actually kind of impressed," Osborne told FOX35 Orlando. "It was definitely a rehearsed thing … with their buoys and their lines, and they use them in unison. Very impressive. I thought it was very neat."
The video shows a man on a boogie board who appeared to have drifted far from shore. One lifeguard begins towing the man toward shore as three other lifeguards swim out to meet them.
RESCUERS CARRY INJURED NH HIKER, 70, DOWN MOUNTAIN AFTER SEVERE WEATHER BLOCKS ARRIVAL OF BLACKHAWK HELICOPTER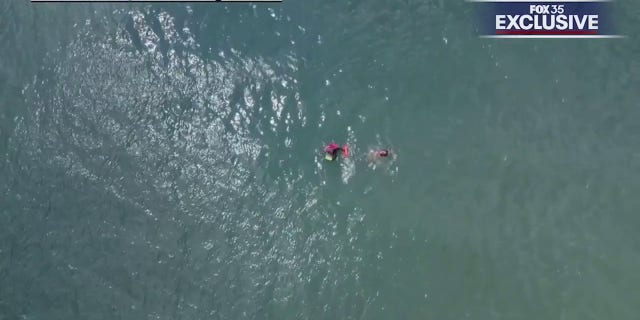 The three other lifeguards are seen forming a human chain with the first lifeguard and boogie boarder, helping to tow the man to safety.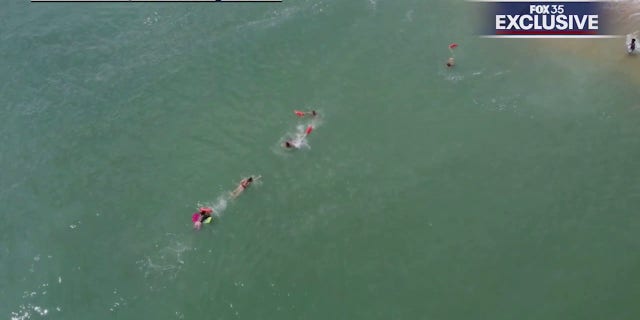 Malaina Bryant, a lieutenant with Flagler Beach Ocean Rescue, told the station that the lifeguards had to adapt their rescue strategy since the distressed boogie boarder was far from shore.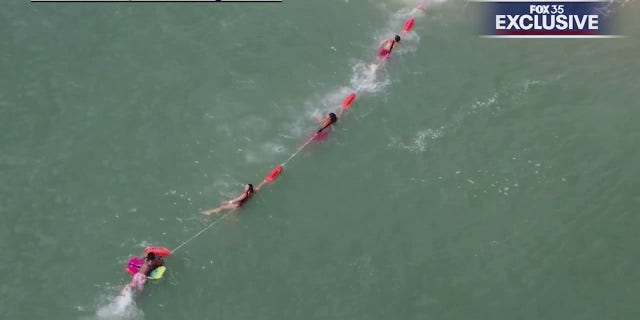 FLORIDA 911 CALL REVEALS 'SCREAMING' AFTER BOY, 6, FALLS OFF ROLLER COASTER: 'HE'S BLEEDING'
"That rescue is pretty far out, so they needed backup, so the backup comes out, and then they chain up by grabbing each other's buoys," Bryant said. "We all work really hard, so it shows on the video. They did awesome."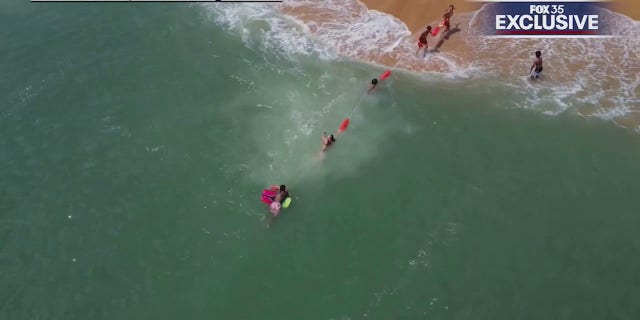 Osborne told the station that his video of the water rescue shows not only the heroics of lifeguards, but also that swimmers need to be careful of rip currents.
"Unless you really could see it, you don't believe it, but it's strong enough," Osborne said of a rip current. "It'll pull you out."