Bipartisan federal legislation was introduced Tuesday that would protect cadets at the U.S. Coast Guard Academy who report a sexual assault from being disciplined for minor collateral misconduct, such as underage drinking.
The change would put the Connecticut service academy in line with policies at Department of Defense military academies. The U.S. Coast Guard is overseen by the Department of Homeland Security.
The legislation comes amid recent revelations that the service did not widely disclose a six-year internal investigation it conducted, known as Operation Fouled Anchor, into dozens of cases of sexual assault and misconduct between 1988 and 2006. The Coast Guard also apologized for not taking "appropriate action" years ago when it failed to adequately handle cases of sexual assault and harassment at the academy in New London.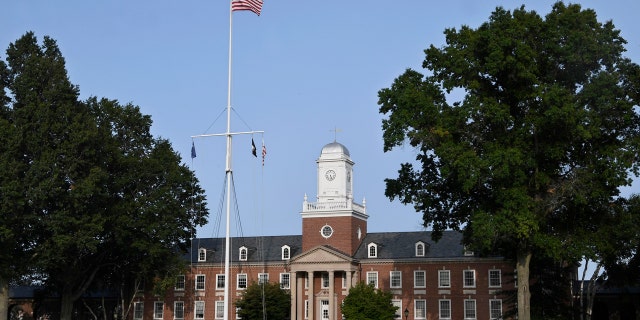 COAST GUARD RESCUES 3 COMMERCIAL FISHERMEN OFF MASSACHUSETTS COAST
Democratic U.S. Rep. Joe Courtney, whose district includes the academy, noted in a statement how the Department of Defense "swiftly implemented" a policy change preventing cadets at its service academies from receiving punishment for minor offenses when they report sexual assault or harassment. He said such protections must be extended to the Coast Guard Academy cadets as well.
"This is one step in the process to care for our cadets as I continue to engage with Coast Guard leadership on the path forward following its failure to disclose the investigation into its history of sexual assault and harassment at the Coast Guard Academy," Courtney said.
US COAST GUARD, NAVY RESCUE 4 MISSING DIVERS OFF COAST OF CAPE FEAR, NC
He co-sponsored the legislation with Republican U.S. Rep. Trent Kelly of Mississippi and Democratic Reps. Rick Larsen of Washington and Salud Carbajal and Nanette Diaz Barragan of California.
"I know how important it is for our Coasties to have the same rights and protections against sexual misconduct as other members of our military," Carbajal, a veteran and the top Democrat on the House subcommittee overseeing the U.S. Coast Guard, said in a statement. "This bill is simple and straightforward, bringing all military service academies under the same umbrella of safety and accountability to protect the next generation of servicemembers."
CLICK HERE TO GET THE FOX NEWS APP
The National Defense Authorization Act in 2021 required the Department of Defense to implement the Safe-to-Report Policy for a midshipman or cadet who is a victim of an alleged sexual assault at a DOD miliary academy and has committed a minor offense such as underage drinking or violating curfew.