GOP presidential candidate and Florida Gov. Ron DeSantis declared a state of emergency Saturday for much of his state, as a possible tropical storm brews in the Gulf of Mexico. 
DeSantis issued an executive order with the emergency declaration for 33 counties in preparation for the storm currently known as Invest 93L, which is expected to strengthen into a tropical storm in the coming days. 
The governor and the Florida Division of Emergency Management "are taking timely precautions to ensure Florida's communities, infrastructure and resources are prepared, including those communities that are still recovering following Hurricane Ian," the governor's office said. 
"I signed an Executive Order issuing a state of emergency out of an abundance of caution to ensure that the Florida Division of Emergency Management can begin staging resources and Floridians have plenty of time to prepare their families for a storm next week," DeSantis said in a statement. "I encourage Floridians to have a plan in place and ensure that their hurricane supply kit is stocked."
IOWA POLL SHOWS FLORIDA GOV CLOSING THE GAP ON TRUMP AFTER FIRST REPUBLICAN DEBATE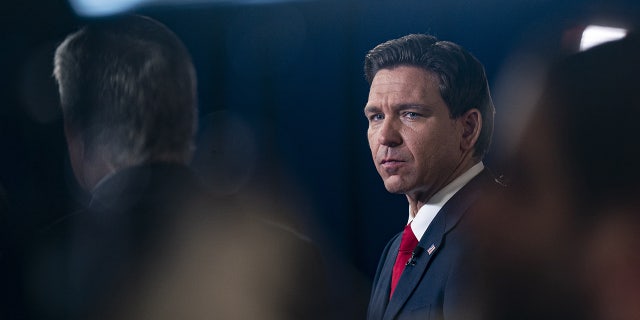 The governor's office noted how the forecast currently places a tropical storm or hurricane making landfall along Florida's Gulf Coast early – mid next week, "with the potential for heavy rainfall, strong winds, and for isolated tornadic activity." 
The 33 of the state's 67 counties are covered in the declaration are: Alachua, Bay, Calhoun, Charlotte, Citrus, Columbia, DeSoto, Dixie, Franklin, Gadsden, Gilchrist, Gulf, Hamilton, Hardee, Hernando, Hillsborough, Jefferson, Lafayette, Lee, Leon, Levy, Liberty, Madison, Manatee, Marion, Pasco, Pinellas, Polk, Sarasota, Sumter, Suwannee, Taylor and Wakulla. 
Forecasters are warning of possible flash flooding and landslides across the eastern Yucatan peninsula and western Cuba. Invest 93L is expected to reach tropical storm status on Sunday.
The National Hurricane Center warned Saturday that the system could produce dangerous storm surge, heavy rain and strong winds to Florida's Gulf coast and Panhandle by midweek.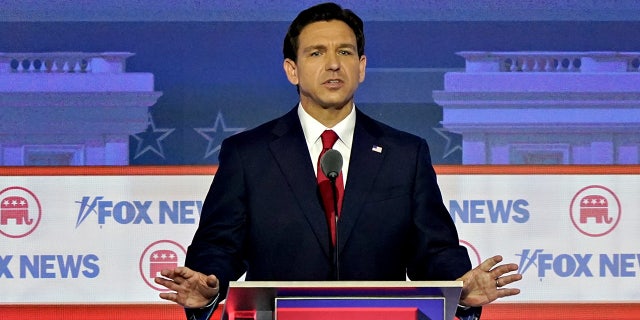 DESANTIS, RAMASWAMY EXPERIENCE FUNDRAISING SURGE AFTER FIRST REPUBLICAN DEBATE
The hurricane center says there is a 70% chance the system will become a tropical storm by Monday and a 90% chance overall. Currently, it would be named "Idalia" if no other tropical storm forms before it. Forecast models do not show the storm's center approaching the areas of southwest Florida where deadly Hurricane Ian struck last year.
Forecast models have the storm curving to the northeast toward Florida, coming ashore along the Gulf coast north of Tampa near the Big Bend area, and then heading diagonally across the state to emerge again in the Atlantic Ocean near southeast Georgia.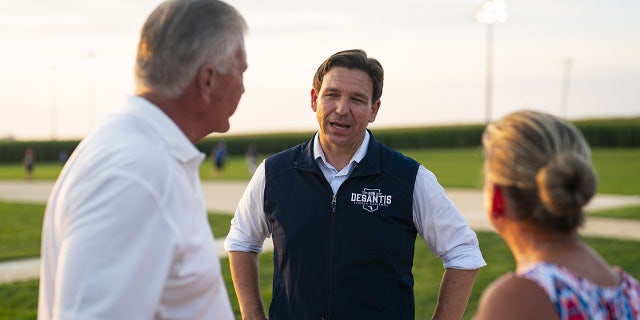 So far this year, the U.S. East Coast has been spared from cyclones. But out west, Tropical Storm Hilary caused widespread flooding, mudslides and road closures earlier this month in Mexico, California, Nevada and points to the north.
The National Oceanic and Atmospheric Administration recently said the 2023 hurricane season would be far busier than initially forecast, partly because of extremely warm ocean temperatures. The season runs through Nov. 30, with August and September typically the peak.
CLICK HERE TO GET THE FOX NEWS APP
A recent poll shows DeSantis closing the gap on the current GOP primary front-runner former President Donald Trump among Iowa voters following the first Republicandebate last week. After DeSantis and 7 other contenders – excluding Trump – met on the debate stage in Milwaukee Wednesday, the Florida governor was back campaigning in Iowa later in the week. 
The Associated Press contributed to this report.