Three Chicago firefighters were hospitalized Friday afternoon while battling a house fire near Chicago O'Hare International Airport, officials said. 
While one of the firefighters remained in serious condition as of 6:30 p.m., the other two were "doing very well," Chicago Fire spokesperson Larry Langford said in an update on X, formerly known as Twitter. 
The firefighters were originally listed in critical, serious and fair condition, Langford said.  
Two of the firefighters, including the one in serious condition, were inside the house when they were injured. The third was outside the home. 
HOW CAN PEOPLE HELP THE VICTIMS OF THE MAUI FIRES?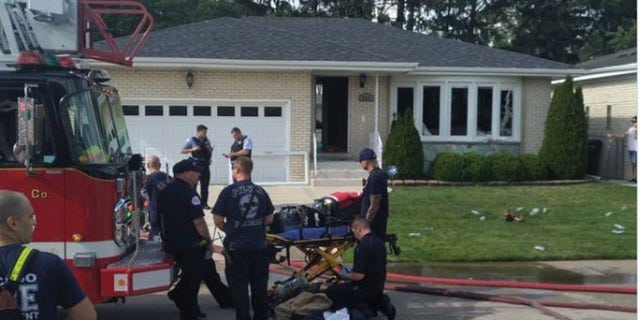 HOUSE FIRE IN NORTH CAROLINA'S OUTER BANKS KILLS 3 VACATIONERS 
The fire was located at the one-story home in the 8000 block of Balmoral, around four miles from the airport. 
"All of a sudden I heard my neighbor screaming, 'My house is on fire!' Like something with the basement," neighbor Jim Bruno told WLS-TV. "At first it looked like there was smoke in the back, but then they were on the roof and they were cutting holes in the roof. And when they opened the front door, I've never seen so much smoke in my life. Just dark smoke. Unbelievable. I've never seen anything like that in all my life."
CLICK HERE TO GET THE FOX NEWS APP
Everyone else made it out of the home safely, WLS reported.