An Illinois school district outside of Chicago fired a newly-hired elementary teacher after outrage spread among parents over his alleged social media posts showing support for Satan and detailing a "psychosis and mania" disorder that has led to "violent" behavior. 
"This board of education and administration has failed the community in a most egregious way," Homer District 33C parent Steven Selucky said at a school board meeting. "The safety of our children, who we hand off to you for your care, has been neglected and overlooked. Giving you the benefit of the doubt, this is at least extreme incompetence and neglect of duty."
The Homer Community Consolidated School District 33C Board fired the art teacher Sunday following a special board meeting that drew large crowds of parents, the Chicago Tribune reported. Homer Glen is a suburban town roughly 30 miles outside of Chicago. 
The art teacher was hired just this year to serve on a rotating basis at four elementary schools in the district. 
VIRGINIA ELEMENTARY SCHOOL TO HOST 'AFTER SCHOOL SATAN CLUB'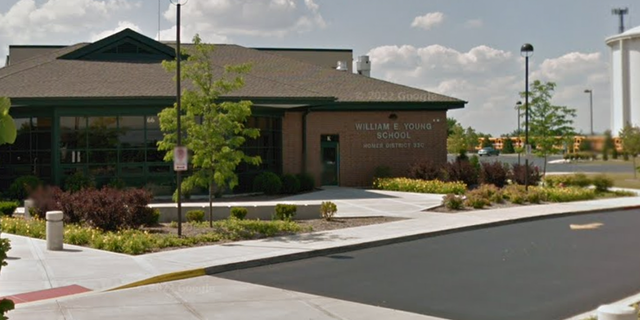 The art teacher's alleged social media posts circulated earlier this month, with the wildly popular "Libs of TikTok" X account garnering 9 million views after sharing screenshots of the posts. The teacher's name was not reported by a handful of local media outlets, but Libs of TikTok and parents who spoke at the board meeting identified the individual as Kris Martin. 
"I HAVE BI POLAR 1 DISORDER WITH MANIA AND PSYCHOSIS!" one alleged post from the teacher began, and later added, "I have done things in conditions of psychosis and mania that have been violent and hurtful."
CALIFORNIA TEACHER BOASTS NOT HAVING AMERICAN FLAG, TELLS STUDENTS TO PLEDGE ALLEGIANCE TO GAY PRIDE FLAG
Other alleged posts showed support for satanism, and included messages such as "Kill the Poor" and "Love the Devil Back," according to the Chicago Tribune. 
Another post allegedly from the teacher showed an upside down black American flag reading, "F— the police."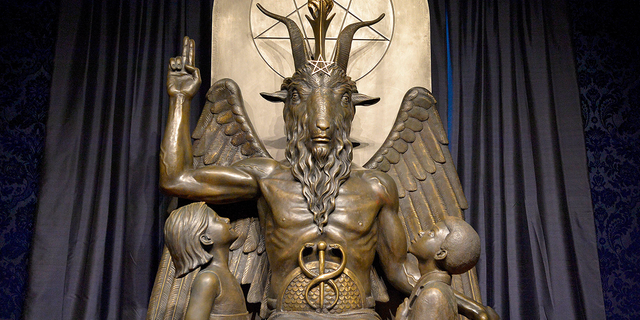 "I've seen some anti-religious, child sacrifice, there was Satan worship," one parent told Fox 32. 
GEORGIA SCHOOL BOARD FIRES TEACHER FOR READING STUDENTS A CONTROVERSIAL BOOK ON GENDER IDENTITY 
"Social media is a public forum. If this person is saying and posting this publicly, what will he do behind closed doors with our children?"
Parents and grandparents sounded off at the board meeting that the district has a responsibility to protect children, and argued that an individual who has allegedly admitted to "violent" behavior and who embraces satanism neglects that duty.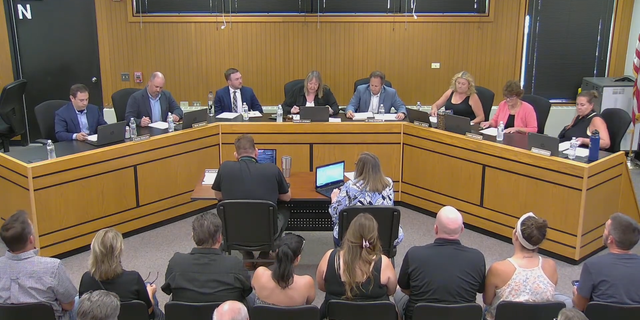 "Hiring a teacher with unpredictable behavior for elementary school is neglectful," one parent said at the board meeting. "As elected officials for Homer Glen schools, it is your job to do what is right for our children. That includes doing your due diligence with hiring new teachers and staff members. The technology we have is at our fingertips. This should be caught. Social media is a public forum. If this person is saying and posting this publicly, what will he do behind closed doors with our children?"
The school board approved immediately firing the teacher at the meeting Sunday. The school board said in a statement that the district vets all new hires with background checks, but argued that the process is not always "flawless." 
CALIFORNIA SCHOOL DISTRICT CONFIRMS TEACHER PUT ON LEAVE AFTER EXPLICIT 'BOOTY HOLE' LESSON CAUGHT ON CAMERA
"Though extraordinarily rare, there are times that process may not be flawless," the board said, according to a statement released by the superintendent. "However, when additional information that is legally relevant to an individual's ability to work safely and successfully in the district does come to our attention, we take the time to consider that information and then take appropriate action."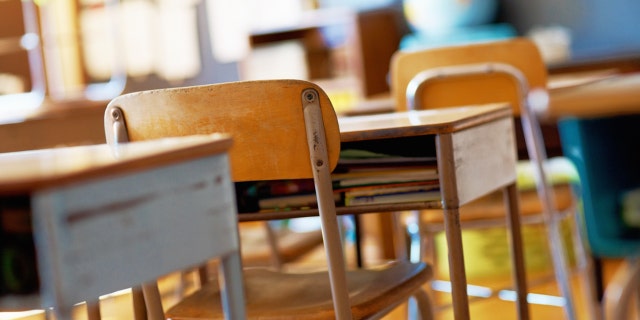 TEXAS DISTRICT FIRES FIRST-GRADE TEACHER WHO JOKED ABOUT KILLING SISTER'S WHITE BOYFRIEND: 'HIDE THE BODY'
"In this instance, that action included additional background investigation which resulted in the discovery of new information, but relevant to the employment of the individual in question. Based on this new information, the Board and Administration took action today to dismiss the employee," the board added. 
CLICK HERE TO GET THE FOX NEWS APP
The district did not immediately respond to Fox News Digital's request for additional comment Tuesday morning.