Several hundred people gathered at the California State Capitol Monday in Sacramento to protest against a number of assembly bills, which they say violate their parental rights and put the safety of their children in jeopardy.
"There has been an increasing groundswell of parental concern that really has come out of the school board meeting drama here in California, where parents have been challenged and parents have been calibrated against for attending school board meetings, in defense of their children's education and safety," Christian megachurch pastor of Calvary Chapel Chino Hills Jack Hibbs, told Fox News Digital Monday.
Hibbs said they were expecting a couple of thousand people to show up, but Hurricane Hilary caused more than 1,000 flight cancelations, according to online tracker Flight Aware. 
Nonetheless, "rain or shine," he and other churchgoers decided to make the nine-hour drive to the Capitol. 
CALIFORNIA MOTHER CLAIMS SHE LOST HER JOB FOR OPPOSING SEXUAL IDEOLOGY IN SCHOOLS: 'ABSOLUTELY DEVASTATING'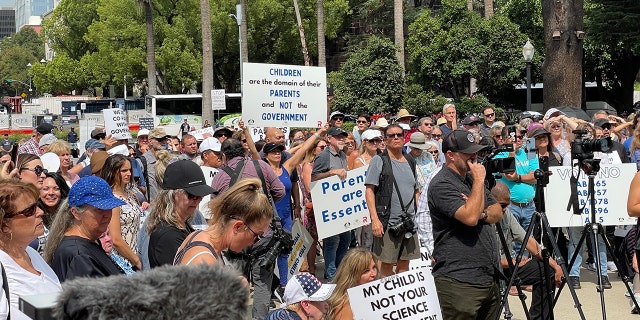 Protesters held up signs that said, "My child is not your science experiment," and "Children are the domain of their parents and not the government." 
One of the most controversial bills, Assembly Bill 665, which gives children as young as 12 the power to admit themselves into residential mental health programs without parental consent, has been dubbed the "state-sanctioned kidnapping" bill by concerned guardians.
"I just think that them being able to do that, and don't even have to let the parents know, is just so frightening," Gina Gleason, director of the Christian public policy ministry Real Impact, told Fox News Digital Monday. "They should have said something like, it is mandatory that the parents are notified, at the very least a notification."
AB 957, another highly protested bill, related to family law and how child custody is decided. It suggests that a parent's support and recognition of their child's gender identity or gender expression should be considered as part of what's best for the child's health, safety, and well-being.
AB 5, which protesters say forces "teachers to profile parents," requires the state department of education to create resources for training school staff on supporting LGBTQ+ students, and it encourages schools to use these resources for training teachers every two years.
AB 1078 would require the state department, as part of its regular review of a local school district, to also assess whether the local educational agency has complied with state laws requiring public schools to provide state-approved diversity curriculums on history and "different communities" in California. 
CALIFORNIA SCHOOL BOARD PRESIDENT ATTACKS AG PROBE INTO PARENTAL RIGHTS POLICY ON GENDER IDENTITY: 'BLACKMAIL'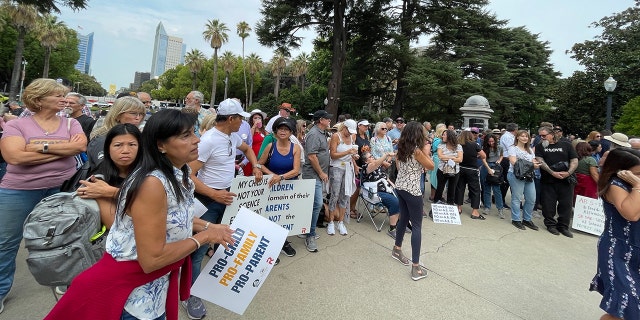 Hibbs fears that if these bills make it through the legislature and become law, it will eventually lead to lawmakers eliminating homeschooling altogether. 
"The next step in the state of California is for the legislation to come forward to limit or to prohibit, and in some cases, stop homeschooling because they think it may threaten the child's safety to be homeschooled," he said. 
"California is no longer a republic, it's a democracy. We've lost our Constitution," he said.
CALIFORNIA SCHOOL DISTRICT SUSPENDS KIDS FOR 5 DAYS FOR MISGENDERING TRANS STUDENT: 'RESTORATIVE JUSTICE'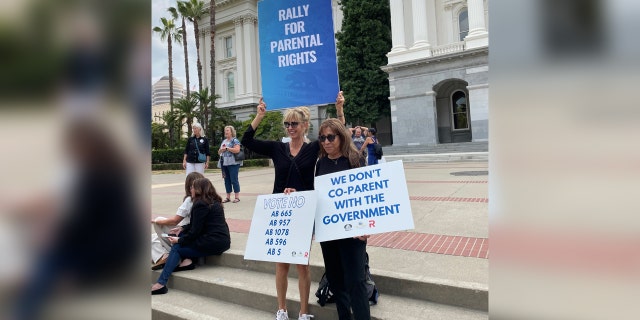 The protest comes as tensions between local school districts and the state have been rising. Just last month, Gov. Gavin Newsom announced a $1.5 million fine for the Temecula Valley Unified School District for refusing to mandate a state-approved curriculum that included a biography of gay rights activist Harvey Milk. 
Newsom also announced last week a new "family agenda" that promotes "educational freedom" by ensuring curriculums don't fall prey to "political censorship."