A flooded football field in Southern California was captured by a news helicopter's camera as Tropical Storm Hilary pummeled the region with rain Monday. 
The KTTV sky camera also captured other video of downed trees and damage from flooding in southern Los Angeles, where schools remained closed due to the storm. 
Tropical Storm Hilary made landfall on Mexico's Baja peninsula and moved into Southern California with damaging winds and heavy rainfall Sunday. 
For the first time ever, the National Hurricane Center had issued a tropical storm watch for large parts of Southern California. Forecasters warned of a "potentially historic amount of rainfall," and the governors of California and Nevada have both declared a state of emergency.
TROPICAL STORM HILARY BATTERS CALIFORNIA WITH DANGEROUS FLOODING, MUDSLIDES, POWER OUTAGES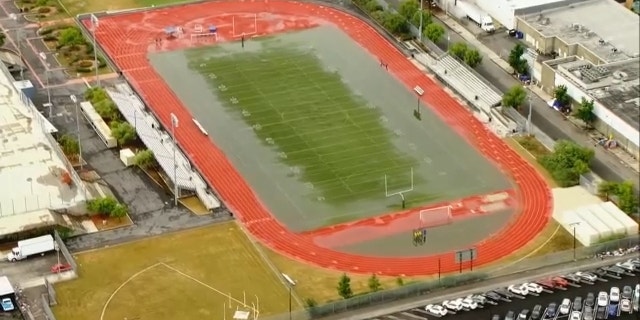 At a press conference Monday morning, Los Angeles Mayor Karen Bass said she had been informed by fire authorities that no deaths had been reported from the storm, FOX 11 Los Angeles reported. The mayor also thanked residents for paying attention, staying home and staying informed.
"Some will say we dodged a weather bullet," Los Angeles Unified School District Superintendent Alberto Carvalho said. "I say we dodged a weather bomb with some degree of unpredictability not knowing where that would occur or when across our large school system that spans 700 square miles."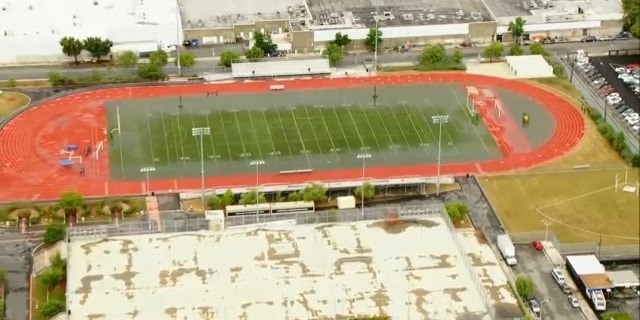 As Hilary dumped several inches of rain on Southern California Sunday, other images showed cars and vehicles stranded along roads and some mudslides. 
SOUTHERN CALIFORNIA RESIDENTS FEEL MAGNITUDE 5.1 EARTHQUAKE JUST AS TROPICAL STORM HILARY ARRIVES IN REGION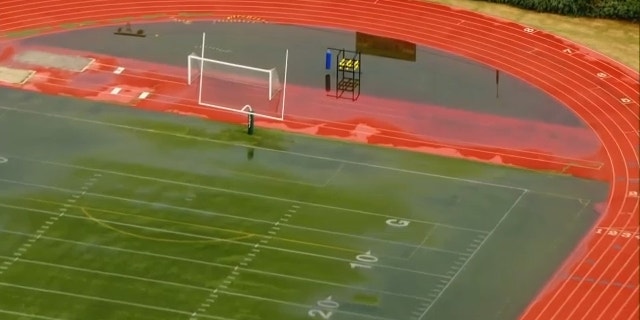 California had only one confirmed tropical storm landfall in the past. It was in September 1939 and was called the Long Beach Tropical Storm, according to The Associated Press. It caused about $2 million dollars in damage in the Los Angeles area. That would be about $44 million in today's money. 
CLICK HERE TO GET THE FOX NEWS APP
A hurricane in 1858 came close but did not make landfall, though its winds did significant damage to San Diego.
The Associated Press contributed to this report.