Detectives in Glendale, California, knew something did not smell right.
A 37-year-old Los Angeles man with a history of predatory sex acts and other crimes has been arrested again – a day after he walked out of jail free after pleading no contest to peeping and prowling charges for staring into a home with children inside.
Calese Carron Crowder is also the perv identified on viral TikTok videos creeping around a Burbank Barnes & Noble store, crouching down behind women and appearing to "sniff" them from behind.
Crowder was sentenced to 60 days in jail on Monday, slapped with multiple no-contact orders and instructed to enter a rehab program for sex criminals. However, he was sprung free from custody Tuesday and was back out on the streets smelling the roses.
CALIFORNIA MAN CAUGHT 'SNIFFING' WOMEN AT BARNES & NOBLE FREE DESPITE RAP SHEET OF CHILD PEEPING, 40 ARRESTS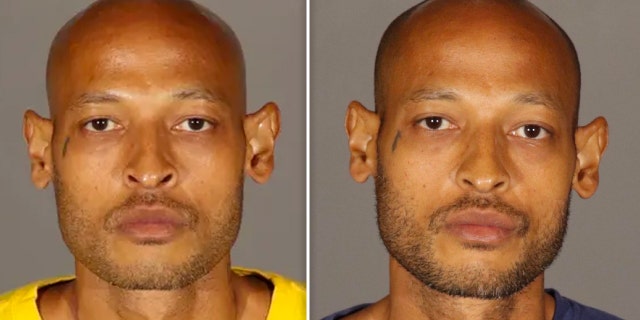 Under the terms of one of his many prior convictions, he was supposed to register at the local police station. However, Fox News Digital revealed Wednesday that his name did not appear on the California sex offender registry.
"As a component of a previous arrest and sentencing Crowder was ordered to register as a sex offender," the Glendale Police Department said in a statement following his latest arrest. 
WATCH: California prowler caught on video 'sniffing' women in Barnes & Noble
"Glendale Police confirmed that he had not registered as a sex offender with our department and was in violation," police said. "He was arrested again today."
As a result, Crowder is scheduled to be arraigned for the second time this week later today. He is being held on $20,000 bail.
Crowder was also accused of peeping into a Glendale home with children on Aug. 6. A Barnes & Noble shopper posted her encounter with him to TikTok on Aug. 8. He was arrested on Friday and walked free on Tuesday despite pleading no contest to the peeping charges.
CALIFORNIA REPEAT OFFENDER ACCUSED OF PEEPING INTO FAMILY HOME WITH CHILDREN: POLICE
On Thursday, Glendale police booked him into jail once again – the 43rd time since 2005 in Los Angeles County alone.
Crowder previously served time in state prison on burglary and robbery charges and had been sentenced in February to a year in jail for indecent exposure in Santa Clarita, court records show. However, Crowder was released early from that sentence, law enforcement sources told Fox News Digital. 
After Crowder's release Tuesday, a victim named Michaela Witter posted a TikTok video warning neighbors to "please be careful."
"Is this real?" she said. "I think he maybe spent three days in jail… They can't do anything until he's done something really bad to someone, and I'm honestly scared that that person is gonna be me."
Witter captured her bookstore encounter with Crowder on video and shared it to TikTok last week. Following the post, at least 20 other women reached out to her with similar stories, she said.
"What are you doing?" she asked after Crowder crouched down behind her and leaned his face toward her.
"Tying my shoe," Crowder replied, huffing and short of breath. "What are you doing?"
WATCH: Barnes & Noble 'sniffer' victim reacts to suspect's quick release from jail
In her single trip to the store, she also recorded the same man pulling the same move on another woman.
She reported him to the front desk and shared the video online, where millions of people saw it, some of whom said they recognized him.
One of those women, another TikToker using the handle @artofethereality, posted a video in which she turned around and confronted a man she found crouched behind her at the Burbank Barnes & Noble that she said she recorded in March.
"Hi, are you following me?" she asked.
CLICK HERE TO GET THE FOX NEWS APP
"No, my bad," he replied, down on one knee and flipping through a book in the same winded voice.
"This is real s— us girls go through and needs to be taken seriously," she wrote in the caption.
District Attorney George Gascon's office told Fox News Digital earlier this week that it had not yet been presented with a case connected to the Barnes & Nobles incidents.
"For questions related to why the defendant was released from custody by the Los Angeles County Sheriff's Department following sentencing, we direct you to LASD," Venusse Navid, a spokeswoman for Gascon's office, told Fox News Digital Wednesday.
WATCH: 'Snake Burglar' Christopher Jackson arrested on police bodycam
The state's controversial Proposition 47 law, however, co-written by Gascon, has reduced the amount of inmates in custody and lowered the penalties for some crimes, including reducing many nonviolent felonies to misdemeanors.
The same progressive law played a role in the release of serial "Snake Burglar" Christopher Jackson last month after he pleaded guilty to 54 felony charges – the second time he was freed on dozens of felonies this year, according to police in Riverside.