A British man was killed amid violent protests in the South African city of Cape Town after the vehicle he was riding in drove into the midst of some of the unrest.
The 40-year-old man was sitting in the passenger seat of the vehicle when he was shot in the head, South African police said. Two other passengers and an infant were also in the vehicle. The passengers were taken to a hospital for medical treatment, police said.
South African police said they opened a murder case over the shooting, which happened last week in the Nyanga township near the Cape Town International Airport and was confirmed by police on Thursday.
At least five people have been killed in a week of protests in South Africa 's second-largest city and most popular tourist destination. The protests were sparked by a dispute between minibus taxi drivers and city authorities.
2 FATALLY SHOT DURING VIOLENT SOUTH AFRICAN PROTESTS IN CAPE TOWN
At least 120 people have been arrested, Police Minister Bheki Cele said, after several shootings, armed robberies and the looting and torching of vehicles, including city buses.
Some protesters dropped large rocks off bridges onto cars driving on Cape Town's main highway below.
The protests began last Thursday after minibus taxi drivers called a weeklong strike in response to what they said were heavy-handed tactics by police and city authorities in impounding some of their vehicles. The national union that oversees the minibus taxi industry say their drivers are being unfairly targeted by authorities for minor offenses, such as drivers not wearing safety belts.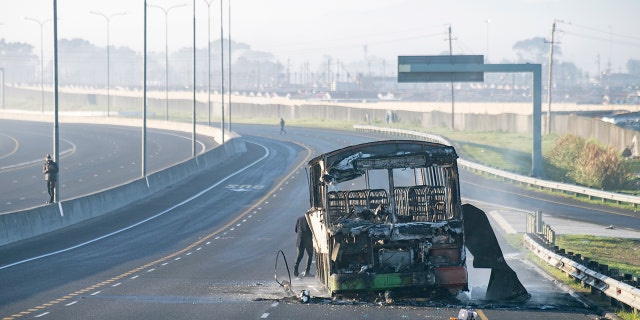 City officials say many of the minibus taxis are not roadworthy and are a danger to other motorists. Minibus taxis have a reputation in South Africa for sometimes ignoring road rules amid pressure to quickly deliver passengers and maximize their profits, but they are critical in getting millions to work and school.
Officials from the minibus tax union deny their members are instigating the violence.
The strike has had a negative impact on Cape Town and underlines how South Africa relies on minibus taxis as its No. 1 mode of public transport.
SOUTH AFRICAN POLITICAL LEADER CALLS FOR VIOLENCE AGAINST WHITE CITIZENS AT RALLY: 'KILL THE BOER, THE FARMER'
Nearly half a million children missed school this week in Cape Town and the larger Western Cape province because of the strike, and tens of thousands of teachers and others have been unable to get to work, causing many businesses to close or reduce their services because of a lack of staff.
Critical services like hospitals have been affected and there are concerns over diminishing food supplies in grocery stores because of the impact of the violence, which is hampering the movement of delivery trucks.
Studies estimate that nearly 70% of South African households rely on minibus taxis to get to school or work, a statistic that is also testament to the poor state of traditional modes of public transport like rail and city buses in Africa's most developed economy.
CLICK HERE FOR THE FOX NEWS APP
The strike was due to end on Thursday but continued after negotiations between Cape Town and national minibus taxi union SANTACO broke off as the violence flared. Cape Town Mayor Geordin Hill-Lewis said the protests had abated on Thursday morning and invited SANTACO officials to restart negotiations.
"The major conflict here is between the taxi association and the city. If those two don't come to the table, we are not going to be resolving this matter," Police Minister Cele said.