The Biden administration has approved a $500 million arms sale to Taiwan as it ramps up military assistance to the island despite fervent objections from China.
The State Department said Wednesday it had signed off on the sale of infrared search tracking systems along with related equipment for advanced F-16 fighter jets. The sale includes the infrared systems as well as test support and equipment, computer software and spare parts, it said.
Although the deal is modest in comparison to previous weapons sales, the move is likely to draw fierce criticism from Beijing, which regards self-governing Taiwan as a renegade province and refuses to rule out the use of force to reunify it with the mainland.
RAMASWAMY VOWS TO DEFEND TAIWAN FROM CHINA UNTIL US HAS 'SEMICONDUCTOR INDEPENDENCE' IN 2028
"This proposed sale serves U.S. national, economic, and security interests by supporting the recipient's continuing efforts to modernize its armed forces and to maintain a credible defensive capability," the State Department said in a statement.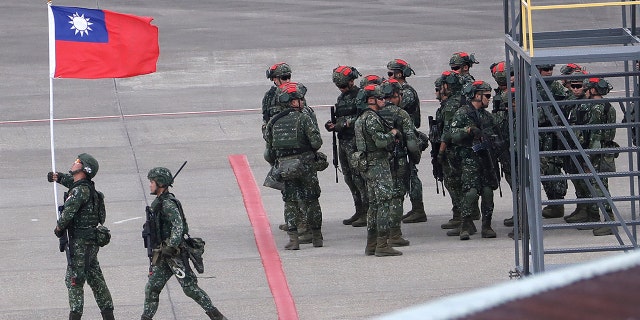 "The proposed sale will improve the recipient's capability to meet current and future threats by contributing to the recipient's abilities to defend its airspace, provide regional security, and increase interoperability with the United States through its F-16 program," it said.
CHINA REBUKES 'SEPARATIST' TAIWAN VP FOR BRIEF US VISIT: 'TROUBLEMAKER'
The announcement came just hours after Taiwan's President Tsai Ing-wen renewed a pledge to strengthen Taiwan's self-defense as she visited a war memorial from the last time Taiwan and China battled. Tsai, visited the outlying islands of Kinmen where the conflict was fought 65 years ago, commemorated those who died.
Wednesday's State Department announcement also follows an angry Chinese reaction to the transit through the United States of Taiwanese Vice President William Lai on his way to and from an official visit in Paraguay last week.
CLICK HERE TO GET THE FOX NEWS APP
In recent years, China has stepped up its military activity in the waters and skies around Taiwan, sending fighter jets and navy vessels near the island or to encircle it.