The Alaska state board of education on Thursday voted to support banning transgender girls from competing on high school girls athletic teams, sending the issue to the attorney general.
Republican Gov. Mike Dunleavy, who appointed the members of the state education board, has said the regulation is needed to ensure fairness in girls sports. The proposal now goes to another Dunleavy appointee, Alaska Attorney General Treg Taylor, a Republican, to determine whether it should go into effect.
The agenda for the board meeting said the state government administration had no recommendation on whether the proposal should pass.
On Thursday, the board met in special session and approved on a 7-1 vote a regulation saying, "If a separate high school athletics team is established for female students, participation shall be limited to females who were assigned female at birth."
The only dissenting vote came from Felix Myers, the high school student representative on the board. The military advisor on the board abstained.
'SAVE WOMEN'S SPORTS' BILL PASSES HOUSE WITH ZERO VOTES FROM DEMS, WHO CALL IT TRANSGENDER 'BULLYING'
The board had initially taken up the matter in July, but it delayed its vote after hearing more than 2 1/2 hours of testimony and receiving about 1,400 pages of written comments.
The board did not take any public comments at the latest meeting. However, member Lorri Van Diest said the earlier comments were about evenly split until a conservative family advocacy group in Anchorage submitted a petition and comments after the deadline, giving the ban's proponents a wide edge.
At least 22 states have laws that prevent transgender girls from playing on girls' teams in K-12 schools. Some of the laws also keep transgender boys off boys teams, and some apply the ban to college athletics.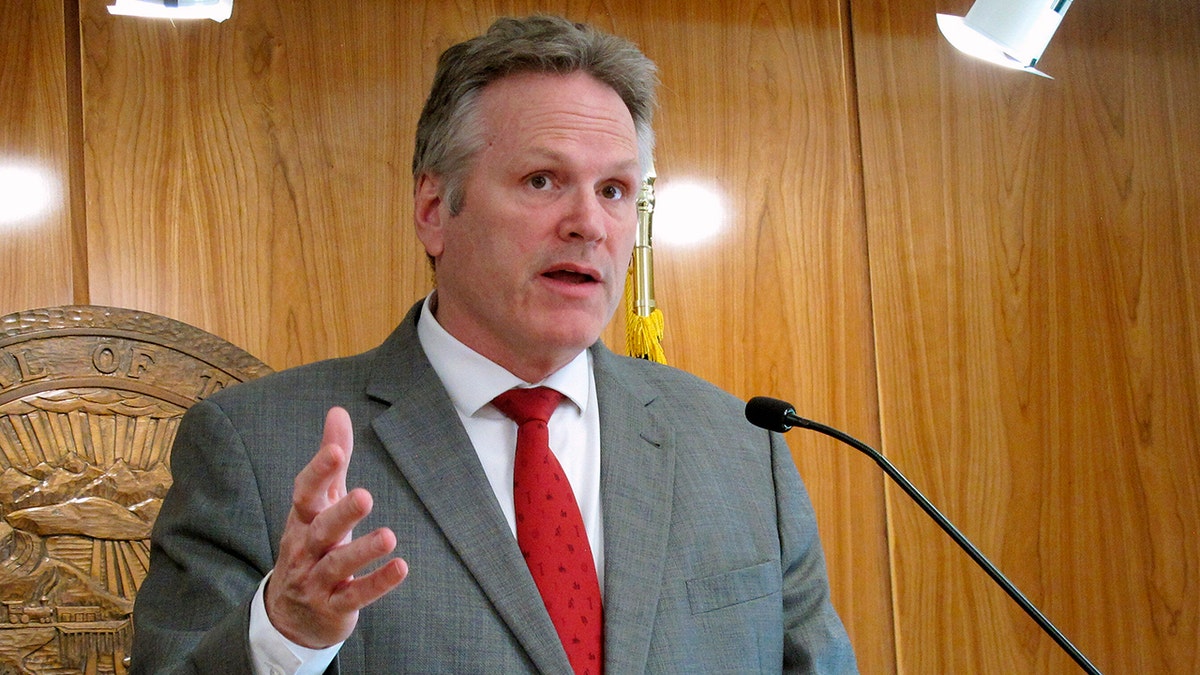 The proposal in Alaska is not connected to legislation, where similar proposals have died in the state Legislature. At least one school district, the Matanuska-Susitna Borough district just north of Anchorage, last year adopted a policy that prevents transgender girls from competing on girls sports teams.
"The decision before us today is difficult with the main question of how to balance inclusion, competitive fairness and safety in high school girls athletics," Van Diest said before the vote, adding she was "part of the group which prioritizes competitive fairness and safety for high school girl athletes."
Board member Bob Griffin said he had no personal objections to how people choose to express their gender identify.
NORTH CAROLINA OVERRIDES VETO TO BAN TRANS ATHLETES FROM COMPETING IN WOMEN'S SPORTS, PUTTING LAW INTO EFFECT
"But the issue at hand is not gender identity, it's performance differences between biological males and biological females and the competitive fairness that that implies," Griffin said. He said it's clear biological males have a significant competitive advantage over biological females in most competitive sports.
"If this were not true, we wouldn't need Title IX or separate sport divisions for boys and girls and roughly half the members of high school football teams would be girls," he said. Some high school football teams in Alaska have both boys and girls on the squads.
To show the difference between the abilities of boys and girls, he pointed to Lydia Jacoby, the Seward, Alaska, teenager who came out of nowhere to win the Olympic gold medal in the 100-meter breaststroke at the Tokyo Games in 2021.
"Although most Alaskans are very proud of Lydia Jacoby representing our state in the U.S. and winning the Olympic gold, her best time ever posted is almost 4 seconds slower than the Alaska state high school record for boys," Griffin said.
"We clearly have a duty to promote the principles of fairness and equity for biological women and girls," he said.
Myers, a student at Sitka High School in southeast Alaska, said transgender students are not looking for a competitive advantage, as many claim. Instead, he said, the idea of transgender women intentionally transitioning to compete in sports is a stretch.
Myers said high school students want to be who they are, but they also want to fit in.
"If someone is truly going to go out of their way to identify this way, that is a huge sacrifice," he said. "They are the bravest, bravest students among us."
"The values that we should be creating as students and as coaches who mentor and help student athletes should be the values of acceptance, of loyalty, of hard work," Myers said.
CLICK HERE TO GET THE FOX NEWS APP
The Anchorage School District, the state's largest, issued a statement decrying the board's vote.
"With all of the current challenges facing Alaska's public schools, it's quite perplexing that this topic is a top priority for the Alaska State Board of Education," said the statement from Anchorage School Board President Margo Bellamy and Superintendent Jharrett Bryantt.
"An urgent public school problem does not appear to exist," the statement said. "Regardless of today's decision, ASD will continue to provide a safe and welcoming school environment for all students. We will continue to ensure an inclusive, nurturing, and respectful school experience for our diverse community. "