Four people are confirmed dead, and a fifth person remains unaccounted for after an explosion in Plum, Pennsylvania, destroyed several homes Saturday. 
Addressing reporters at the scene late Saturday, Plum Police Det. James Little said all activity at the site was suspended for the evening due to the weather, darkness and concern for responders. "At this point, we have confirmed four deceased and one person is still unaccounted for," he said. 
Three additional individuals were transported to area hospitals. Two individuals were transported in stable condition and have since been released from the hospital. The thirdremained in critical condition as of Saturday night, officials said. 
Investigators have yet to disclose the suspected cause of the explosion or other details. Crews were expected to resume activities Sunday morning, Alleghany County wrote on X, formerly Twitter. Another press conference was scheduled for noon at the Plum Municipal complex. 
THREE MISSING, THREE HOSPITALIZED AFTER HOUSE EXPLOSION ROCKS PITTSBURGH SUBURB
At approximately 10:23 a.m. Saturday, county 9-1-1 received a call from the Rustic Ridge Drive and Brookside Drive in Plum Borough reporting a house explosion with multiple injuries and several houses on fire. First responders from the police and fire department arrived at the scene and reported that there were people trapped under debris and that it appeared as if one house had exploded, and two others were engulfed in fire. Multiple other homes were damaged with windows blown out.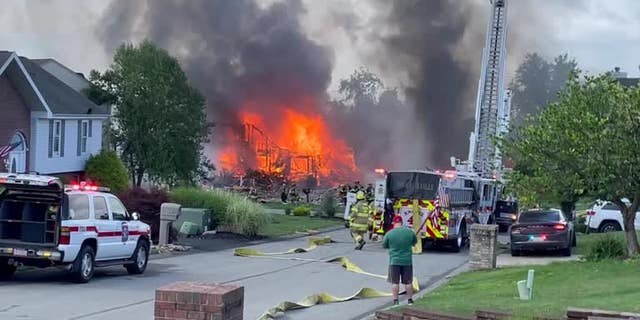 County officials said three structures were destroyed and at least a dozen more were damaged in some way. Water tankers were at the scene from both Allegheny and Westmoreland counties and 18 different fire departments. The county's Emergency Management officials and Fire Marshals were also at the site.
Crews had been working on extinguishing nearby structures as gas lines were secured.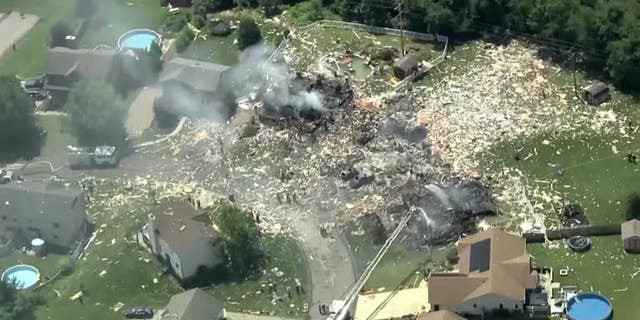 George Emanuele, who lives three houses down from the home that exploded, told the Tribune-Review that he and a neighbor went to the home before the fire got out of control, where they found a man laying in the backyard and dragged him away from the scene.
POLICE SPEAK OUT AFTER PENNSYLVANIA DOG IS ABANDONED AT AIRPORT BY OWNER: 'HARD FOR ME TO WRAP MY HEAD AROUND'
Rafal Kolankowski, who lives a few houses away, told the Pittsburgh Post-Gazette that the explosion broke the windows in his house and knocked him and his wife to the ground.
After recovering and checking on his son, Kolankowski went outside and a woman told him another female had been upstairs and a man was in the basement. The other woman later emerged covered in white ash, but the individual in the basement had not yet exited, he said.
"It's just tragic, I mean, it looks like a war zone — it looks like a bomb hit our neighborhood, and it's just unfortunate," Kolankowski said. "I was just with some of the neighbors yesterday, right, and now this happens."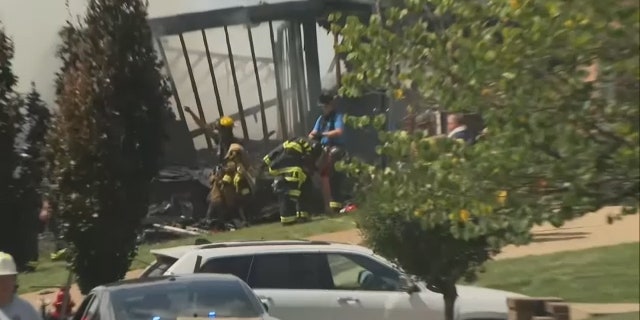 Jeremy Rogers, who lives two doors down, told the paper he had been out shopping when he got an alert about a problem at his house and saw "all sorts of stuff flying around." His family was able to get out safely, and he was allowed to go inside quickly to rescue his dog, although he could not locate the family's three cats.
CLICK HERE TO GET THE FOX NEWS APP
Any additional information regarding the deceased victims will come from the county medical examiner. The Red Cross and Salvation Army were assisting residents impacted by the explosion. Allegheny County Human Services have set up a Disaster Distress Helpline, and the Renton Fire Station was open for refuge. 
The Associated Press contributed to this report.