A 17-year-old was indicted on a hate-crime murder charge in a stabbing that followed taunts and confrontation over a group of men dancing shirtless to Beyoncé as they gassed up their car, prosecutors said Thursday.
Prosecutors concluded O'Shae Sibley's death was motivated by anti-Black and anti-LGBTQ bias, Brooklyn District Attorney Eric Gonzalez said.
"It's clear to me, under the circumstances of this case, that in substantial part, this attack was caused because people were offended by Mr. Sibley and his friends dancing and celebrating," Gonzalez said.
The suspect is due in court Friday to answer the charge. It mirrors the charge on which he was arrested last week. If convicted, he faces at least 20 years in prison.
PHILADELPHIA FUNERAL SET FOR O'SHAE SIBLEY, WHO WAS KILLED AFTER CONFRONTING TAUNTING TEENS IN NYC
The Associated Press sent a text message to his attorney, Mark Pollard, seeking comment. Pollard's voicemail box was full. The teen's grandmother told the Daily News he was defending himself. Prosecutors have not released the suspect's name.
The chain of events that ended in Sibley's July 29 death began when he and his friends were dancing at a pump at a Brooklyn gas station, and another group of people began taunting them, authorities said.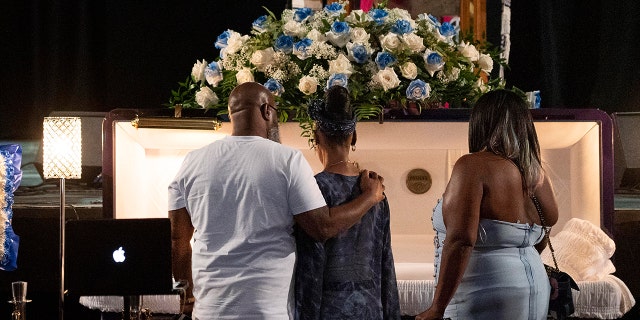 Security camera video showed the two groups arguing for a few minutes. Both sides walked away, and then Sibley and a friend returned and confronted one of the others, who had stayed behind recording on his phone.
PHILADELPHIA SUICIDE DESIGNATION FOR WOMAN WITH 20 STAB WOUNDS, BRUISES, IGNORES HOMICIDE EVIDENCE: EXPERTS
In the video, Sibley, 28, could be seen following that person and then lunging at him before the two disappeared out of the camera's frame. A moment later, Sibley walked backward into view, checking his side, then collapsed to the sidewalk.
"What the video shows is that Mr. Sibley was rightfully in a position to speak out and protect himself and his friends from anti-gay and anti-Black slurs, and that what occurred after that was a crime," said Gonzalez, a Democrat. He noted that Sibley and his friends were unarmed.
"Defending yourself from the anti-gay or anti-Black comments, arguing back, it's not a cause for someone to take a weapon and do what was done in this case," the prosecutor said. He added that he was confident the charges would be proven at trial.
CLICK HERE TO GET THE FOX NEWS APP
Sibley performed with the dance company Philadanco in his native Philadelphia and in New York and took classes with the Alvin Ailey American Dance Theater's Ailey Extension program. He used dance to celebrate his LGBTQ identity in works such as "Soft: A Love Letter to Black Queer Men," choreographed by Kemar Jewel.
About 200 people attended Sibley's funeral Tuesday at a historic opera house in Philadelphia. His death has prompted an outpouring of tributes from politicians and celebrities, including Beyoncé and filmmaker Spike Lee.